Promart unveils new brand identity
By VJ Media Bureau | Vjmedia Works | 1 | February 27, 2013
The new logo and brand identity has already been rolled out at all Promart stores across India.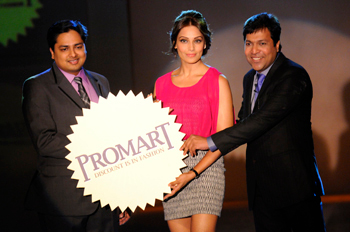 Promart Retail- a discounted retail chain and value format concept unveiled its new brand campaign and logo with Bollywood star Bipasha Basu today at Bandra, Mumbai. The new brand campaign portrays that discount is always in fashion. The brand's new look and logo are being represented across various touch points like stores, advertising and communication along with a new tagline of'discount is in fashion'. The brand offers exciting discounts from 25%-60% clubbed with special promotions and offers for consumers all
year round.
Speaking on the new brand identity, Punit Agarwal, Promoter and CEO, Promart Retail said, "We believe that the new makeover of the brand will further accelerate and deepen our relationships with our customers pan-India. We've made the universally recognized symbol of "discounts" a fashion icon by incorporating it in our brand's visual identity. We will make discounts aspirational and the starburst will be signature of that. The colour yellow has been intentionally used to attract the youth which is always associated with discounts which is a signifier of a fresh start. This will define the brand identity and differentiate the brand from other players. With the launch of our new campaign, we envisage a new journey from here on as we aim to provide affordable fashion to people in smaller cities."
The brand plans to open around 100 stores over the next one year. Promart also plans to expand its reach to cities like Belgaum, Kolhapur, Godhra, Meerut, Lucknow, Surat, Bhopal, Ganganagar, Banaras, and many more in the coming months.