Pulimoottil Silks: Unfurling a saga of tradition
By Smita Sinha | November 06, 2019
Having established itself as the market leader in the category, Pulimoottil Silks has continued to move ahead with a commitment to quality and innovation, carving a distinct name in apparels in Kerala. VM&RD finds out more about Pulimoottil Silks in its Kochi Retail Yatra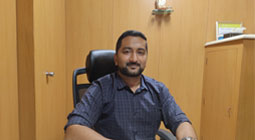 The history of Pulimoottil Silks is a long saga of tradition, diversification and innovation. It's a family business which was founded by Chacko Ouseph in the year 1924 with the first store in Thodupuzha. In the year 1955, his son Ouseph Chacko and Ouseph John took the group a step ahead by establishing an exclusive showroom for apparels at the heart of Thodupuzha and the place subsequently came to be known as Pulimoottil Junction.
Pulimoottil Silks later set foot in Kottayam in the year 1986 with one of the biggest showrooms in Kerala spread across an area of 50,000 sqft at K.K. Road. The retail brand had a huge impact on the fashion sensibility in Kottayam and created new benchmarks for textile retail across the town. The family business is now managed by Chacko Ouseph's grandsons John Jacob and Stephen Chacko.

"I entered the family business 10 years ago. Pulimoottil Silks is a multibrand outlet. We are into menswear, kidswear, ladieswear and home linen. We have 5 stores in Kerala and the expansion has been gradual because our grandfather and father believed that the land in which we build our store should be our property and shouldn't be built in a rented space," highlights Jacob Abraham , Partner, Pulimoottil Silks.

Read the full story in the November 2019 issue of VM&RD Magazine.