PVR bluO to strengthen its position in Northern region
By Kalyan Annam | Vjmedia Works | December 18, 2013
Company is planning to open six more centres across India in next two to three years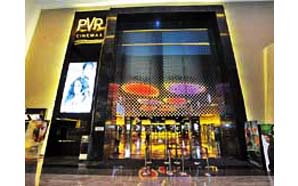 Having opened its maiden bowling centre in Chandigarh, PVR bluO, India's largest bowling chain would further strengthen its presence in Northern region by opening another centre in Ludhiana by April next year. Turning its focus on non-cinema entertainment, overall it is planning to open six more centres across India in next two to three years with an investment of Rs 80-100 crore.
Currently it has six centres, two each in Delhi-NCR and Banglore, one each in Pune and Chandigarh. Speaking to Business Standard, PVR Ltd, CMD, Ajay Bijli said, "We are the India's biggest bowling chain with 135 cosmic lanes. We have established bowling centres in cities such as Delhi-NCR, Bangalore, Pune and Chandigarh. By April, we would open one such bowling centre with 16 lanes in Ludhiana. We are targeting cinema goers and have plans to open two to three centres every year. Further, we are in talks with real estate players to take bowling centres to cities such as Mumbai, Delhi, Hyderabad, Chennai and Kolkatta. We are targeting to open atleast six more bowling centres in next three years with an investment of Rs 80-100 crore."
The projects would be funded through internal accruals, debt and equity.
With expansion on the cards, the company is eyeing a turnover of Rs 140 crore in the current financial year. PVR bluO is a 51:49 joint venture between PVR and Major Cineplex Group of Thailand.
Commenting upon Chandigarh centre, He added, " The Chandigarh centre has state of the art bowling facility, besides plethora of fun games. From pool tables to dart games, foosball to karaoke and playstation, bluO gives bowling a whole new definition to entertainment. Thereby to sum it up, fun and bowling, multi cuisine, music and adventure all coming together under one roof. The facility also boast of exclusive lanes extending towards the platinum lounges for private gatherings."
On being asked about PVR Cinema expansion, Bijli added, "Presently, we have 404 screens spread across 39 cities and we have plans to double the number of screens in next three years. The new screens will be fairly spread out in Tier-I, Tier-II and Tier-III cities. The total investment would be close to Rs 800 crore which would be funded through internal accruals, debt etc." He also informed that in February next year, it would launch its nine screen multiplex including two ultra premium cinemas known as the Gold Class in Mohali in Punjab. The multiplex would boast of maximum number of screens in Punjab.