PVR Cinemas launches HP virtual reality lounge
By Arnab Dutta | March 21, 2017
Will invest Rs 15 cr in Asia\'s first such lounge, in 10 properties in Mumbai, Delhi, other centres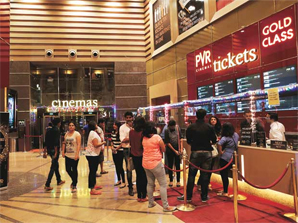 India's largest multiplex chain, PVR Cinemas in association with HP India has launched Asia's first virtual reality (VR) Lounge at PVR ECX, Mall of India in Noida. Created in association with HP, the computer technology company, PVR has launched the HP VR Lounge - A PVR Initiative which will allow PVR Patrons to experience a new dimension of entertainment while they wait for their film to begin. With this initiative PVR becomes India's first multiplex to bring in a never-before experience to its users with a rich variety of immersive and interactive content.

"A lot of the consumer feedback pointed to a gap in the ways patrons can utilise the time before the movie starts, while they are in the lobby. We saw an opportunity to monetise those 20-25 minutes that the patrons have. There will be nine more after this one - 3 in Mumbai, 2 more in Delhi, 3 in the south and 2 in our East and Central (India) properties. The price point we have introduced this activity at is Rs 100 per seat for around 15 minutes," explains Gautam Dutta, CEO. PVR Cinemas.

The concept at PVR ECX has four VR pods equipped with latest technology by HP that delivers an immersive and interactive experience, blurring the lines between what's real and what's not. From crouching behind turrets to diving on the ground to avoid strafing bullets to seeing a grotesque image lurking nearby, those few intense minutes will surely keep movie lovers fastened to the HP VR Lounge. Besides the best in class technology, the HP VR Lounge, also provides a whole new library of immersive and interactive content curated from various different genres like drama, fiction, sci-fi, horror, action etc.

"We currently have 8 pieces of content - 3 in the gaming space, and the rest in the entertainment/infotainment space. Ultimately we will scale up the content we offer, but the focus is on the experience and not on content production," explains Dutta.

The investment per pod amounts to Rs 25 lakh and PVR aims to have an average of 6 pods per property going forward which makes the total estimated investment on the initaitve at around Rs 15 crore. At Rs 100 per customer, the break-even on the investment may take a while, factoring the acceptance by consumers. However, Dutta says that the initaitve can be used as a distribution and exhibition platform as well.

"In the future, we are open to lending the platform to brands who have a promotional film in the VR format, as long as the content is something that will appeal to the patrons. It is definitely a revenue stream we are looking at seriously," adds Dutta. The association with HP is also a sponsorship based one, and hence the co-branded name for the initiative.

Ajay Bijli, chairman and managing director, PVR Ltd said, "At PVR, we remain committed to providing an exceptional customer experience to our patrons. Virtual reality is the dawn of the new era that opens up limitless possibilities of pure entertainment. It transcends all boundaries of what is real and what is not and the high end technology by HP provides a complete immersion into the digital world. We are delighted to partner with HP given their unmatched expertise in the technology domain. We believe that the VR readiness of all their upcoming products is exceptional. VR is the reigning trend in the entertainment industry and we are sure our patrons will have a great time exploring it."

Ketan Patel, Sr. Director, Personal Systems, HP Inc. India said, "HP's innovation in the area of VR is yet another first from us where we continuously strive to provide the latest technology and world class experience to our customers. Our partnership with PVR will bring the best of technology for PVR patrons to touch and feel virtual reality. Our OMEN range is truly VR ready and it will allow customers at the HP VR Lounge to experience new content through this new medium. Our technology and devices are sure to transport them into a different world. There was no better partner than PVR to explore this one-of-its-kind offering."