Rasna to launch morning health food in six months
By Adam Devey Smith | Vjmedia Works | February 20, 2015
Planning 20-25% capacity expansion to existing 500 cr glass of concentrated drinks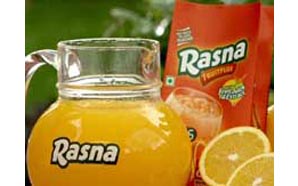 Concentrated drink major Rasna plans to enter the food business in India by launching a breakfast food by July or August. Chairman Piruz Khambatta said it had been also planning for two more manufacturing facilities, with an investment of Rs 150 crore.
After announcing actor Akshay Kumar as the new brand ambassador of Rasna in Chennai, Khambatta said, "Though, we sell food products overseas, this will be our first food product in India. We are known as a beverages company in India". The company is currently test-marketing the product, he said.
"We are looking at launching food products for breakfast. It is a huge opportunity because breakfast habits are changing here. We are launching a product which will give an office-going woman a good healthy breakfast for herself and her children," he added.
There is no data of the size of the market because breakfast is currently all Indian traditional food.
However, there are some data in the section of cornflakes, which would be around Rs 500 crore market, he said, adding it was not the market the company is looking at. He refused to reveal more on the plans. The company currently sells products like pickle, paste, chutney and jam in countries abroad. The other products include instant powder drink, shake up, litro pack, nectar, syrup and fruit cordial.
It is expecting to add 20-25 per cent of its capacity in a year and it plans are to set up one or two manufacturing plants.
Commenting on expansion plans, he said the company currently has a capacity to manufacture 500 crore glasses of concentrated drink across all flavours, from its existing nine facilities.
While details are not finalised on where to set up the facilities, he said it would come up in places where the company could source fruits. He added almost 60 per cent of the total existing capacity is to manufacture orange flavour, in which Rasna is at the top position.
The company, currently with sales operations in 40 countries, would be expanding to more countries. In the domestic market, the company has a reach to 30 per cent of the four crore households and the company is constantly in the process of expanding its presence to reach more households in the future. It has around 2,500 stockists, 35 depots and five branch offices and reaches around 1.8 million retail outlets.
On selecting Akshay Kumar as the brand ambassador, Khambatta said that the actor equally appeals to both the mother and child and has an image of a health conscious, fighting-fit actor. In the past, Rasna has roped in celebrities like Karisma Kapoor, Hrithik Roshan, Anupam Kher, Paresh Rawal, Virender Sehwag, Genelia D'souza Deshmukh and Kapil Dev.
The company announced launch of three special promotions for the upcoming Summer - a 500ml Sports Bottle worth Rs 50 free with Rasna 500gm Fruit Plus pack, a 1 litre Super Sipper worth Rs 75 free with three litro packs of Rasna Fruit Plus and a Jug worth Rs 100 free with three Rasna Fruit Fun Packs.