"Riding on Sunkist, we intend to push our in-house products"- Kishore Biyani
By Dinesh Jain | Vjmedia Works | December 10, 2013
Retail king Kishore Biyani, chief executive officer, Future Group, is keen to grow his fast-moving consumer goods (FMCG) business to Rs 10,000 crore by 2018 from Rs 2,000 crore now by ensuring his suite of products"" a combination of in-house and external brands"" are available even outside the company's stores. In an interview with Viveat Susan Pinto, Biyani talks about how he proposes to achieve this.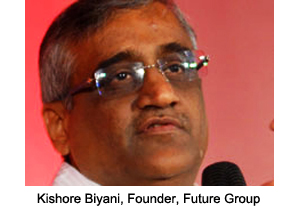 Edited Excerpts:
You have just announced your first major international tie-up with FMCG maker Sunkist? Will there be more such alliances?
Unless, you do something high-profile you don't get noticed. Sunkist is a step in that direction. We have entered into a long-term agreement to manufacture, market and sell the Sunkist range of fruit juices, juice drinks and sparkling (carbonated) beverages in India. While they are a significant player in beverages in the US and across the world, they also have a presence in confectionery and dry fruits. We have the first right of refusal in these segments as well. But for now our attention is on the beverage segment. We will look at a contract manufacturer to begin with when it comes to local production of Sunkist but we will eventually move to our food park in Tumkur, Karnataka, for manufacturing the Sunkist range of products. However, Tumkur will essentially target one region, the south. We will have to look at bottlers for other regions also since we are looking at a national footprint for the brand. The Sunkist range will be priced above Tropicana (from PepsiCo) but below the high-end imported beverages. The first year will be spent in getting our market mechanism in order. By the second year of operation we are targeting revenues of Rs 100 crore for Sunkist.

Will Sunkist be the window to gain access into general trade for all your FMCG products?
You are right. When you have a portfolio of marquee brands, it does open doors and windows for you. If you look at Tasty Treat, it has a 30 per cent market share in breakfast cereals in our stores. Care Mate, our toilet cleaner, has a 50 per cent share, beating even Harpic (from Reckitt Benckiser) in our stores. But brands such as Sunkist give you the visibility and profile when you are targeting general trade. We are looking at the top 20 cities for expansion into general trade. Riding on Sunkist, we intend to push our in-house products such as Tasty Treat, Fresh & Pure into general trade. While Sach and Care Mate are our brands in the non-food space, cracking that segment is not going to be easy when you are speaking of a larger FMCG footprint beyond modern trade. Segments such as oral care, where Sach operates, is very competitive, where there are well-entrenched players pushing their products into general trade. Food, on the other hand, is a long-term bet. Thirty-five per cent of a consumer's spend in India is on food alone. That's where our attention will be. Personal care will come at a later stage. Possibly two to three years from now.
You have also offloaded your stake in Capital Foods. Where will the money be deployed? Are you looking at more acquisitions?
We had a 46 per cent stake in Capital Foods (maker of Ching's Secret noodles and soups; Smith & Jones sauces), which we have sold to a French private equity fund for Rs 180 crore. This money alongwith the Rs 200 crore cash on the books of Future Consumer Enterprises, which is the company pushing the food & FMCG interests of the group, will be deployed for growth of the company. But I cannot tell you what we have in mind as far as acquisitions are concerned.
Are you confident of reaching the Rs 10,000-crore mark by 2018 in FMCG?
That is the target that we have set for ourselves and we are confident we will achieve it. We have the funds and the ability to borrow since Future Consumer is a zero-debt company. So there are no issues when it comes to funding our growth plans. As far as our rate of growth is concerned, we are looking at a 30-40 per cent growth rate a year. Going by all this, we should be able to achieve Rs 10,000 crore by 2018.