SAD has double standards on FDI in multi-brand retail: Sharma
By Payal Gulati | Vjmedia Works | March 06, 2014
Sharma said FDI in multi- brand retail would help members of the farming community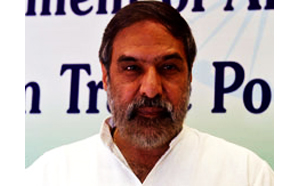 Union Commerce Minister
Anand Sharma
on Wednesday accused SAD of adopting double standards on Foreign Direct Investment (
FDI
) in multi-brand retail, saying the party first supported it and then took a U-turn after its ally BJP opposed it.

"Punjab Deputy Chief Minister Sukhbir Badal had sent a letter (of support on FDI in multi-brand retail issue) and urged us to pass the bill. When UPA government passed the bill, the Badal s (Chief Minister Parkash Singh Badal and Sukhbir) also sent a congratulatory letter," Sharma claimed at a conference at Banur here.

He alleged that after "arm twisting by BJP", SAD changed its stand and opposed FDI in multi-brand retail.

Taking a dig at the Badal s, Sharma said, "Sardar log kissi sey nahin darte, yeh to BJP se darr gaye (Sikhs are fearless but they ( Badals) bowed to BJP pressure)."

Sharma said FDI in multi- brand retail would help members of the farming community. "For the benefit of farmers, we decided to bring in FDI in multi-brand retail. The farmers will not get exploited and consumers will also get products at cheaper rates," he said.

The Union Minister charged the Badal s with patronising ministers who were allegedly involved in a drug racket. Attacking BJP's prime ministerial candidate Narendra Modi, he alleged that he "stole" the economic ideas of UPA and only reworked the UPA government's achievements.

Speaking on the occasion, Union Minister of State and Patiala MP Preneet Kaur attacked Harsimrat Kaur Badal for allegedly diverting funds for her Lok Sabha constituency (Bathinda) at the cost of rest of the Punjab. Earlier, Sharma laid the foundation of Rs 500 crore Footwear Design and Development Institute (FDDI) at Banur. The Punjab industries department gave over 8.5 acres to the Union ministry to start the project.
Business Standard