Shop-In-Shops: Small Shop Goes Big
By Satarupa Chakraborty | January 24, 2018
VM&RD speaks to some leading brands, retailers and some of the suppliers and stakeholders to understand the nuances of this popular format and what it takes for the shop-in-shops to make it big.
Online brands and new entrants are using it as test market tool. Retailers are building their private labels through it. For more established brands, it's a great model to expand visibility. One of the brick-and-mortar formats that has passed the test of time is the SiS or Shop-in-Shop. However, this is also the format which has to compete the hardest to stand out among clutter. Huge density of merchandise doesn't necessarily do justice to business. Designs of SiSs are hugely influenced by neighbour brands or dictated by the retailers. VM&RD speaks to some leading brands, retailers and some of the suppliers and stakeholders to understand the nuances of this popular forms and what it takes for the shop-in-shops to make it big.
Uniform or independent?
When it comes to lending space to shop-in-shops, India's leading retailers think differently. At Central, where the average size of SiS ranges between 200-500 sq ft, brands are considered as partners, where they can bring in their own design, fixtures etc. Central's "high-definition" outlets are further working on sizes based on the brands' performance and identities. Indian Terrain is bringing its 1000 sq ft SiS while Raymond's will span across 3000 sq ft. On the other hand, Lifestyle, where SiS size mostly doesn't exceed 200 sq ft, has a selective approach. While only top brands can use their own fixtures, all participant brands have to conform to the retailer's guideline in terms of signages, branding size etc. They also do periodical movements of this shop-in-shops based on sales-per-sq ft and other reviews.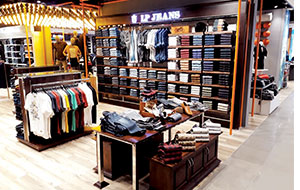 Project Eve, the recent large format identity from Reliance Retail dedicated to women, has a stricter policy in fixture design as well as uniform branding and signage design. Project Eve's private label brands are positioned seamlessly with brands like Marks & Spencer, Saint Tropez and Juna Rose.
Building fixtures for many international and national brands like Indigo Nation, John Miller, Fossil etc, Sourav Banerjee, Director, Aditac Solutions, said, "Many a times, sourcing right material is a challenge. It's challenging to achieve fixture colours because of dearth of good quality raw materials. Say for example, we are using much inferior acrylic here in India whereas, you get much better quality abroad. We are importing our laminates mostly from Singapore in quest of quality."
Stand-Out Strategy
The area of concern for most of the brands who are big into SiS is that they don't have much freedom in flooring and ceiling applications leaving them to create their identity with only Fixture and VM on perimeter walls and floor units. Keeping in line with that, they have to bring some innovative design to compete with fellow brands. How are they bringing those differences? Menswear brand Peter England is currently working on a special branding signage for their SiSs. Mohit Saxena, Head-VM, Peter England, explained, "Peter England- the brand name is way too long to fit in the width available in an MBO. We are already trying to stand out through a logo that may not read the full name of the brand. We will also review the brightness of LED for the signages in order to stand out." Signages also are making all the differences for Arvind's casual wear brand US Polo Assn. The brand is using white letter cut on black background to stand out effectively in comparison with the previous signage that was weaker in colour contrast.
Vidit Sachdeva, Manager – Design & VM, US Polo Assn, told, "At EBOs, we have more surfaces to do branding including window, entrance etc. However, at SiSs, it's a challenge when the branding space is as limited as 12 inch to 18 inch. We are also careful to use carpets, props etc even in this format."
Being part of design process of SISs for brands like Amante, D'Décor, Blackberrys, Van Heusen etc, Sankalp Sahu, Founder, 02June Studio, thinks, "There are brands like Tommy Hilfiger etc who have better deal and space to create something striking in their SiSs. Without lot of space, it's challenging to bring anything different. Many brands are taking SiS today as just wall space without paying much attention to creating true ambience for the brand."
Design – extension or exclusive?
Shop-in-shops are mostly extension of their EBO personality while some brands are effectively tweaking the concept. Brands like Tommy Hilfiger, Black Rabbit, Indian Terrain, US Polo Assn are bringing noteworthy changes in their SiS design.
Aditya Birla Retail & fashion Ltd (ABRFL) has about 3200 shop-in-shops combining Louis Philippe, Allen Solly and Van Heusen and the brands are working towards bringing something new in their SiS design. Anuraag Singhaal, Group VM- Creative Lead, CPC, ABRFL, explained, "For the last 5-6 years, we have been trying to convert our EBO design in SiSs. We realized that in most environments, if we don't have access to flooring and ceiling, we got to be different. We have consciously moved towards lit and brighter signages than the previous non-lit ones. We have started adding branding to every corner of our gondolas, fixtures etc to ensure consumer navigation recall." Louis Philippe will soon launch their new concept in SiS.
Cosmetic brands have kept updating their identity using design and lately, they have started integrating dynamic imagery and technology in their SIS formats which use a lot of new innovative material combinations. Rajiv Kumar Bobal, Director – Sales & Marketing, Revlon India, shared, "Revlon way back in 1996 was perhaps the first brand who introduced the concept of beauty advisers in the stores and then came along the concept of S-I-S format. We always go for customized S-I-S within any store with high gloss finish and black painted fixtures which are part of standard design of Revlon India. Generally our S-I-S are of 4-5 ft. width within which we have included the make-up area or the makeover zone. We have been evolving with the latest technology and our VM team takes a close look regarding each section of the store."
Working closely with many cosmetic brands and other SiS fixtures, Delhi-based fixture manufacturer Vista Retails has recently created a "Beauty Bay" at Central Gachibowli. Hitesh Sharma, Director, Vista Retail, said, "The latest trend in beauty SiS is self-interactive ones. We have recently created one for Korean skincare brand It's Skin including self-interactive digital interfaces. All brands are taking interest in the idea of SIS with least possible human interaction. The SiSs should be self-explanatory."
SiS – The Entry Point
Online brands aspiring to become omni-channel, private label brands and new entrants often resort to the route of SiS to build their retail journey. For example, Spanish brand Desigual entered Indian market in an exclusive partnership with Shoppers Stop in a purely SIS format at Shopper Sop outlets in India. Bringing European brand Marie Claire to India, Amiteshwar Singh, Director, Epic Brands, told, "We have around 5-6 SiS currently and we will soon roll out our EBO plans. The format didn't only handheld us to understand our consumers but also help us modify the design of our fixture and design. Right now, it's ruled by Duco white colour but we may modify further and then follow a uniform design for both the channels."
Jewellery brand Voylla entered the retail market few years back with SIS formats only and today they have 250 retail touch points combining all formats. Vishwas Shiringi, Director, Voylla, said, "Over years, we have made our branding colours, teal and white, the focal point. So, even if we our large format partner doesn't allow us our own fixtures, we make the branding strong. At Celebrations Mall, Udaipur, we are present through three formats – EBO, SiS and kiosks and all three touch points are profit-making for us and I will give credit to our strong branding for that."
Menswear brand Blackberrys launched Urban last year and entered as private label through SiS only. Urban today has 19 SiS while Blackberrys has 190 SiS. Ramesh Kaushik, VP – Brand Experience, Blackberrys, said, "Today, shop-in-shop jostle in large format outlets with no special identity of their own. In our case, though it is extension of our EBOs, we make sure that we add some elements that are peculiar to the format."
SiS – key trends in India
Though the format is riddled with challenges like space crunch and design limitations, SiS are reported to be integral part of almost all brands' retail scaling plan. Interestingly, some retailers have started thinking differently in terms of allocating space or allowing the brands' own design strategy. Here are some interesting insights we learned:
Average SiS size allotted by retailers is 200-500 sq ft
Mostly, the brands have no free hand in designing flooring and ceiling
Most of retailers provide uniform fixtures only except a few brands, with whom they have special partnership.
If it's an operational MBO, the deadline to set-up SIS is as short as 1-2 days
Retailers have mandates on fixture height, branding size, difference between two fixtures and circulation area.
SIS design is mostly an extension of exclusive brand outlets. While some brands are creating design elements that peculiar to only their SiS designs.
Signage and branding are the key areas where brands put in maximum efforts.