Simba Toys opens 14th store at Mumbai airport
August 14, 2013
The global toy brand is planning to expand its retail presence in the country with 40 new stores Pan India.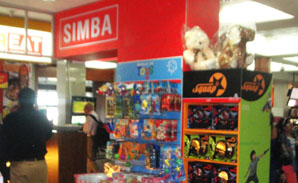 Global toy manufacturer Simba India today announced the opening of their new store at Mumbai's domestic airport. Spread over 320sq ft, the new store is designed to showcase a wide range of safe and high quality standard products for kids in the age group of 0-14 years.
Commenting on the same, Narayan Sabharwal, Business Head, Simba Toys India said, "After the successful launch of stores across the country, we are pleased to announce the launch of our very first airport store in Mumbai. The store gives us an opportunity to increase our brand presence and reach out to a wider target audience."
He further added, "Simba today has 14 stores across India, a number which we plan on increasing to 40 by the end of the year. Our commitment is to make Simba Toys a neighborhood toy store which offers a wide range of quality products safe for kids".
The brand plans to their presence across India and successfully establish over 100 franchised stores in the country by the end of the year. The German toy company, which has 26 subsidiaries around the world, already has 13 stores operational in India located at Mumbai, Delhi, Chennai, Bangalore, Surat, Dehradun, Indore, Raipur, Bhopal and Gurgaon.