Swedes near their store rollout in single-brand retail
By Jim Hollen | Vjmedia Works | January 20, 2014
Ikea may open store in Noida; H&M in New Delhi's Select City Mall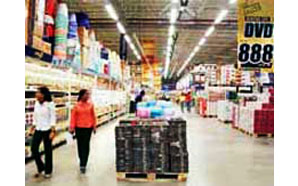 Even as India's
multi-brand retail
policy is facing challenges following the Delhi government's reversal in stand, Swedish single-brand chains Ikea and H&M are firming their store rollout plans in the country. Ikea's Rs 10,500-crore investment proposal has been the biggest in the sector, followed by H&M's Rs 700 crore. Both had to face several rounds of government questioning before getting approval.

It is learnt fashion chain H&M, which competes with brands such as Spain's Zara in Europe, will open its first store on 25,000 sq ft in New Delhi's Select City Mall in March or April. The company did not respond to the Business Standard's queries on store openings. Three stores are being planned in the country for 2014, a source said without revealing the locations.

Though H&M may have wanted to go faster in store expansion, the sector is usually cautious while investing during an election year, said experts. H&M's investment is likely to go much beyond Rs 700 crore. According to its proposal, it wants to run 50 stores in India.

Furniture chain Ikea, whose was the first big-ticket global proposal in single-brand retail, is believed to have finalised Noida, next to Delhi, as the destination for its first India store. A spokesperson said: "We have not yet decided where the first store will be built." However, a source said the store in Noida was expected to be built and opened by 2016.

The source added the world's largest furniture group was expected to open its second store also in the national capital region. Gurgaon, next to Delhi, is named as the likely choice for the next store.

Ikea has maintained all through it was ready to wait for the right location and price to build a property in line with its global format. After finalising a location, the company usually takes two years to roll out.

In an interview last year, Juvencio Maeztu, Ikea's India chief executive, said patience had kept Ikea going in spite of entry hurdles. The euro 27-billion retailer had then said it planned to invest what it takes in the India market but would wait to find the right location.

While noting the euro 1.5-billion (Rs 10,500 crore) investment was connected with establishing retail stores for 15 years, Maeztu had said: "We will invest as much as we need to in India. It's not that we have got a budget to follow."

According to the firm, Ikea stores must be big and these need to be close to the motorway and have metro connectivity. It is planning 10 stores first and then 15 over 15 years.