Tanishq unveils first flagship showroom in Howrah
By VJ Media Bureau | Vjmedia Works | April 14, 2014
Tanishq currently runs 164 exclusive boutiques in 92 cities making it India's one of the largest jewellery retail showroom chain.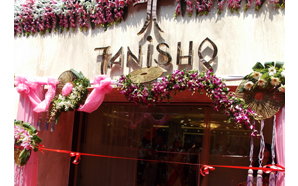 Tanishq, one of India's largest jewellery retail brands, opened their first showroom in the heart of Howrah city located at 138 G T Road South, Shibpur. Spread over an area of 3200 sq. ft. the new outlet boasts of a great and aesthetically appealing facade and grand interiors following the brand philosophy of maintaining the purity in their merchandise. The new store has been inaugurated by Rajeshwari Srinivasan, Associate Vice President and Regional Business Head-East, Titan Company Ltd.
Speaking on the occasion, Rajeshwari Srinivasan shares, "Tanishq has been a pioneer in setting new benchmarks in the jewellery industry. This is the 164th showroom in Tanishq's network. In the year to come, we plan to extend our reach to newer markets. This new showroom embodies Tanishq's commitment towards providing customers a memorable shopping experience with its carefully created jewellery displays, ambience and customer service."
The showroom will offer over 5000 exquisite designs ranging from opulent wedding collection in gold, kundan, polka and diamonds to contemporary jewellery and will also provide exclusive facilities such as the Karatmeter - a device to measure the purity of gold. As a part of the shopper connective initiative the brand will be offering their two jewellery purchase scheme - Golden Harvest and Swarnanidhi-Gold Booking Scheme. To woo the customers before the Bengali New Year and as an inaugural present a special offer has been declared by Tanishq where the customers will be gifted 0.25 gram gold pendant free with purchase of every 10gm of gold jewellery and Rs 10000 worth of diamond jewellery and the customers can avail this offer only at Tanishq, Howrah between 11th-15th April 2014.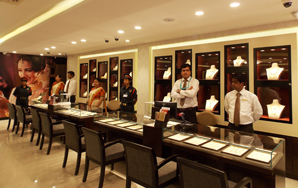 The aim of the brand is to touch and understand the finer sensibilities of the people of that area and cater accordingly to their requirements through an experiential shopping environment. Rajaeshwari Srinivasan further says in this regard, "Since 1997 Tanishq has become synonymous with pure gold and with this Premium showroom we aim to cater to the people of Howrah coming from various parts of the city like Belur, Bally, Salkia. So far this region has been mainly fed by the local family run jewellers but we have got huge response from the very first day. As a brand Tanishq is concentrating on providing Region Specific collection also having a mix-n-match of traditional and contemporary designs. Soon we will launch Sankha-Pola Collection which is an auspicious part of Bengali wedding jewellery, similarly we are doing it in other states like Bihar and Orissa."
With the organized jewellery market rising at a steady pace and Tanishq growing at the rate of 20-25% per annum, the brand aims to expand rapidly by opening 10-12 more showrooms in the East zone by this FY. Rajeshwari Srinivasan, further informs more on retail formats by saying, "In this region we would like to open a few exclusive Mia stores which is a modern collection of light weight branded jewellery from Tanishq for working women. We have three other retail formats as well which are Premium/ Flagship stores and the Howrah showroom falls under this category, Gold Plus - value jewellery retail chain which is mainly concentrated in the Southern region of the country and Zoya - exquisite jewellery collection present in Delhi and Mumbai."
"In West Bengal Tanishq is also looking at the B Towns and want to expand in the cities like Asansol and as a whole East being a very potential market we are planning more stores in Silchar and Guwahati at Assam," adds Alok Ranjan, Area Business Manager, Titan Industries Ltd.
Tanishq currently has 27 showrooms in East region of which 10 are located in West Bengal and this inauguration is a part of their rapid retail expansion plan.