TBZ extends their retail presence in Gujarat
By Nabamita Chatterjee | Vjmedia Works | 1 | April 02, 2013
The store launch and display of latest bridal collection is timed well with the pre-wedding buying season.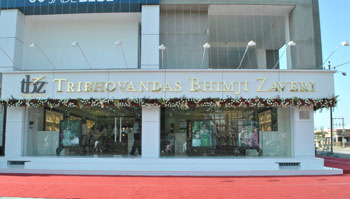 Tribhovandas Bhimji Zaveri Ltd.(TBZ), the 150 year old jewellery retailer in India extended their store network further in Gujarat with the inauguration of their new outlet at Gandhidham in Kutch region. The exclusive 2,170 sq ft store is located at Tagore Road, Sector 8, Near Lord's Hotel, Gandhidham. "TBZ will maintain the momentum of its retail expansion across key markets in Gujarat as the company has recently opened new stores in Rajkot, Vadodara, Vapi, Bhavnagar and now its time to foray into Gandhidam. The city has largely cosmopolitan population due to migration of people from various parts for employment.TBZ is confident that the art and culture loving communities of the place will warmly welcome TBZ's legendary values such as trust, craftsmanship and creativity in jewellery designing," says Shrikant Zaveri, Chairman & MD, TBZ. In the last few months TBZ-The Original has opened 12 outlets in cities like Pune, Mumbai, Kolkata, Vasai, Nagpur, Aurangabad, Raipur, Vashi(New Mumbai) including the state of Gujarat. With the opening of this new store TBZ now has 26 stores in 20 cities across 7 states including Maharashtra, Madhya Pradesh, Chattisgarh, Kerala, Andhra Pradesh, Gujarat and West Bengal. TBZ-The Original's 26 exclusive showroom in India extends its network from Saurashtra to the Kutch region.
The display of the all new Bridal Collection in the new store is timed well to serve the customers during the family get-together on auspicious festival and the pre-wedding buying season. Also on display is the new'Dohra Detachable jewellery' --- innovative multi-utility jewellery collections based on customer choices and designs for use in different ways on different occasions. As a special inaugural offer for customers of Gandhidham, a 50% discount on diamond jewellery making charges and 35% off on gold jewellery making charges is available for a limited period.