This festive season would be positively surprising: GCPL\'s Vivek Gambhir
By Dinesh Jain | Vjmedia Works | August 07, 2017
Interview with Vivek Gambhir, managing director, GCPL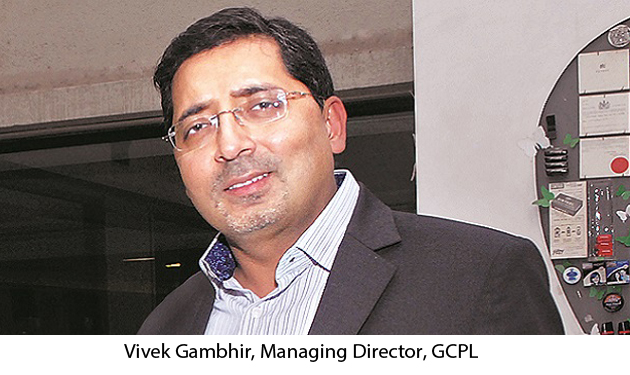 The June quarter was quite challenging for Godrej Consumer Products (GCPL), like most consumer goods companies, as it struggled with trade destocking issues in the run-up to the goods and services tax (GST) roll-out. Vivek Gambhir, managing director, GCPL, tells Viveat Susan Pinto that the second quarter will be better than the first, and a full recovery will happen by the third quarter of the current financial year. Edited Excerpts:
It has been a month since the GST came into effect. What are your thoughts on the transition so far?
The recovery is underway. I look at the issue through two separate lenses -- one is the consumer lens; the second is the channel lens. After demonetisation, when I look at the data from February-March onwards, consumer demand has been relatively robust, and (sales) offtake has been picking up. The challenge that the GST caused was the volatility in the channel in terms of the latter's ability to service demand, which ended up affecting all our (companies) reported numbers as well, because we sell to the channel. The good news is that the consumer part still remains robust. The channel is taking some time, though.
Does wholesale still remain a big worry for companies?
It does. Wholesale is a worry. Urban general retail is fairly normal. Modern trade is also doing well. The canteen stores department (CSD) should start picking up from August. Not much happened in July on that front. We have less exposure to the CSD. It is less than 3 per cent of our business. However, from an industry point of view, the CSD is an important channel catered to by companies. Within wholesale, the south and the west have picked up more. The north and the east have been slower to adapt to the new system. But I think if the current trajectory continues, we are relatively optimistic that by the end of September things will return to normal.
Will the second quarter be better than the first quarter in terms of performance? There are mixed views on this.
I think quarter two will be better than quarter one. Will it be completely back to normal? I don't think so. There is going to be a gradual recovery. Full recovery will be from quarter three.
Give us a sense of this year's festive season. As an industry captain what is the feeling you get of how consumer companies as a whole are going into the festive season?
Depending on how the pent-up demand is, the festive season could be better than one expected. Remember, there have been a few quarters of lower demand. My expectation is that this festive season would be positively surprising.
Your thoughts on the rate cut that happened in almost a year on Wednesday.
It is a good step, though I was hoping the rate cut would be more. From a broader perspective, the rate cut aids sentiment-building among corporates. The cost of capital remains high in an era of 2-3 per cent inflation. I understand the government is a little constrained because of the bad debt sitting on the books of banks. But I think interest rates for corporates to borrow needs to come down dramatically. While a rate cut is a step in the right direction, I would love to see much higher reduction in interest rates for corporates to borrow. That is because the private investment cycle has to be kickstarted. One of the big challenges has been that one is not seeing enough private investment capital happening in India. Till interest rates come down, that cycle will be difficult to start.
GCPL has initiated management changes internationally. How does this help you?
Rotating talent helps our company grow, because our people get global exposure. Naveen (Gupta) had been in Indonesia for a very long time. He had done a great job there. This was the next challenge for him to take up our Africa business, which has been done now. Also, this was a great time to bring in some outside talent as well into the company. With Akhil (Chandra) and his stellar background in consumer goods, he will add depth to our management team.
What is your strategy to revive the Indonesia business, which did not perform well in the June quarter?
Yes, the June quarter was a disappointment for the Indonesian business. But it was structural because there are some macroeconomic challenges that the country is facing. Inflation has been on the higher side. Consumer spending has been on the lower side. The Lebaran holiday, among Indonesia's major national holidays, (which falls in June) also impacted business. Third, we are seeing greater competitive intensity in Indonesia, with higher degree of promotions by players. I do see quarter two being better, but it may take quarter three for the Indonesian business to recover back to its historical levels.
You entered the professional hair range with the Godrej brand recently. How will this help you?
Almost 20 per cent of consumers (in India) generally get their first hair colour experience by going to a salon. So the role of a salon in guiding consumers on what choices to make for their hair is quite high here. This then presents us with an opportunity to grow the hair colour category. At the same time, if you look at the salons below the top 500 or 1,000 in the country, there is a gap in terms of quality hair colouring, right products etc. So our effort here is not about trying to win share against competition, but to try and grow the pie instead.