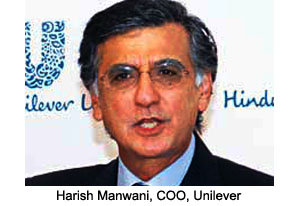 Harish Manwani, the chief operating officer (COO) of Unilever, will retire from the world's second-largest consumer goods company in December.
The 61-year-old company veteran, Unilever's second-most powerful executive, who was elevated to the newly created position of COO three years ago, will continue as non-executive chairman of the Anglo-Dutch major's Indian subsidiary, Hindustan Unilever (HUL), a statement from the company said.
"Harish is an inspirational leader and leaves a remarkable legacy. He has been at my side in helping to drive the turnaround of Unilever, making this once again one of the most admired companies in the world. Over the past three years, especially as chief operating officer, Harish has been instrumental in the transformation of the company. Under his leadership, we have seen a step-change in our go-to-market organisation and there has been a relentless focus on flawless execution globally," said Unilever's chief executive officer Paul Polman.
Manwani, who joined HUL as a management trainee in 1976, rose rapidly through the ranks to emerge second only to Polman. Before his elevation to the position of COO in September 2011, Manwani was running Unilever's Asia, Africa, Central & Eastern Europe, and West Asian regions, which comprise 40 per cent of its business.
His career had other milestones, too. He joined the HUL board of directors in 1995 as a director responsible for the personal products operation helping it grow from a nascent business to one of the key growth engines of the company. Personal products, which include brands such as Dove, Ponds, Pears, Vaseline, etc, give HUL 30 per cent of its revenues thanks to the impetus that Manwani gave it early on.
Manwani subsequently moved on to cover other categories, travelling to different parts of the world as a result. This included stints as senior vice-president (global hair care and oral care); president (home and personal care) first of Latin America and later of North America.
In 2005, he was appointed to the Unilever Executive Committee as president (Asia, Africa, Middle East) and the role later expanded to include Central and Eastern Europe. He also became the first non-executive chairman of Hindustan Unilever and has overseen a period of sustained growth with the business more than doubling its size and reinforcing itself as one of India's most admired companies.
His elevation to COO, which was a clear deviation from standard practice for the company, came because of his proven track record of delivering on targets as well as his deep understanding of emerging markets. From 52% three years ago, developing and emerging (D&E) markets today give Unilever 57% of its revenues. The Anglo-Dutch major, which closed the 2013 calendar year with sales of $62.25 billion, is looking to take this number further up in the coming years.
In an affirmation of the growing importance of D&E markets, Unilever raised its stake in HUL last year in what was the biggest open offer ever by a company in India at Rs 29,200 crore. Manwani along with Polman were responsible for taking these bold bets, analysts tracking the company said. And his continuation as HUL's non-executive chairman will mean that the Rs 28,019-crore company, which was formed in November 1956 following the merger of three subsidiaries, Hindustan Vanaspati Manufacturing Company, Lever Brothers Ltd and United Traders Ltd, will remain the jewel in Unilever's crown.
HUL, which is the largest fast moving consumer goods company in India gives Unilever eight per cent of its revenues and is the second biggest emerging market for Unilever after Brazil. In recent years, HUL has attempted to premiumise its portfolio as well as step into emerging categories in a bid to ramp up sales. It has also introduced a number of global brands and increased its distribution footprint in rural areas.