Uniqlo, M&S and Forever 21 to open flagships at DLF Mall of India
By VJ Media Bureau | Vjmedia Works | June 04, 2013
The largest fashion destination of the country will invest Rs 1,100 crore as investment in the project which will house national and international brands in India.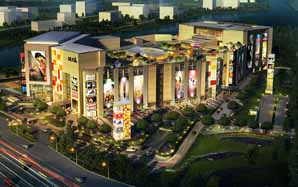 The DLF Mall of India, will house leading international labels like Uniqlo, Marks & Spencer and Forever 21, which be present in the International Boulevard zone of the mall. Elaborating on the association, Pushpa Bector, Senior Vice President, heading DLF Mall of India said, "We are approaching key milestones and have completed over 50% of leasing presently.
We are extremely proud of our partnerships with national & international brands that are going to make debut in the country through their first flagship stores in DLF Mall of India. Bringing these global brands to one stop destination
reaffirms our commitment to the retail industry and our discerning customers. We look forward to a long lasting and successful relationship with all our partners and hope that the mall and the brands receive warm response from the customers."
The International Boulevard is spread across 5, 60,000 sq. ft. retail space and is going to see the presence of large format twin level stores of:- Uniqlo (40,000 sq. ft. GLA.), Forever 21 (40, 000 sq. ft. GLA) and Marks and Spencer flagship (68,000 sq. ft. GLA).
The DLF Mall of India has also signed leading franchisees of international premium fashion labels like Major Brands, Arvind Ltd, Aditya Birla Nuvo to unveil more than 30 international labels in the mall across 120,000 sq. ft. of retail space. DLF Mall of India is modeled after international flagship properties and the 1.8 million sq. ft. mall will be spread across six levels of retail experience with zones marked as, International Boulevard, Market Place, High Street, Family Hub and Entertainment City. The unique differentiator of the mall is the creation of experiential shopping zones. DLF MoI will have over 450 brands under one roof and will house a 1,10,000 sq. ft. GLA hyper market Reliance Mart in The Market Place zone.