V2 Retail launches store in Hubli, Karnataka
By VJ Media Bureau | Vjmedia Works | 3 | June 07, 2013
After spreading its reach in the North and East with the launch of six stores in a month, V2 Retail Limited has entered South India with the launch of its seventh outlet in Hubli.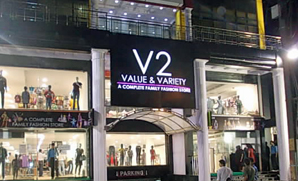 V2 Retail, the value format retailer has stepped into Karnataka with the opening of its first store in Hubli. Sprawling across an area of 20,000 sq ft with two floors, the outlet is a complete family store with a new and advanced version of shopping at mainly economical price. The store houses products for men, women and kids ranging from apparel to travel accessories and lifestyle products.
Speaking on the eve of the launch, Manshu Tandon, CEO, V2 Retail Ltd. said, "We are very happy to announce our entry in Karnataka with Hubli. It is the fastest growing city in the state after Bangalore. We are very sure to provide the best economical shopping solution for a family. This is going to be a complete family store in the city which is the commercial centre and business hub of North Karnataka. We are getting very good response from our existing stores in Delhi NCR, Bihar, Jharkhand, Uttar Pradesh, Himachal Pradesh and Orissa. So we are confident of doing good business in Hubli, Karnataka also."
Targeting mainly the Tier II and Tier III cities, the brand has recently carried forward its expansion plan across the country. Within a short spam of one month V2 Retail has unveiled seven stores in cities like Bettiah, Darbhanga, Bhagalpur, Gorakhpur, Hubli, Berhampur, and Cuttack. On this note, Ram Chandra Agarwal, Chairman & Managing Director at V2- Retail Ltd. said, "The Company primarily caters to the burgeoning middle and lower mid-segment consumer group, which forms an integral part of India's growing purchasing power. It has been our constant endeavor to reach out to masses and offer world-class fashion shopping experience at affordable prices to suit every pocket. Therefore we have deliberately planned to expand in Tier- II and Tier III cities". The brand is presently running all profit stores in an area approx to 1, 88,000 sq ft.