VIRTUOUS RETAIL appoints S Raghunandan as CEO
By VJ Media Bureau | Vjmedia Works | March 25, 2014
Virtuous Retail is sponsored by The Xander Group Inc., a global investment firm, which has committed US$ 600 MM of equity to the platform.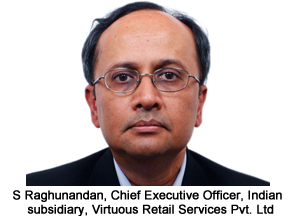 The Xander backed, Singapore headquartered, Virtuous Retail Pte. Ltd, has announced the appointment of S Raghunandan as Chief Executive Officer of its Indian subsidiary, Virtuous Retail Services Pvt. Ltd.
Anupam Yog, International Director, Marketing, Virtuous Retail said, "Raghu's extensive leadership experience in the retail industry is a strategic fit with Virtuous Retail's master retailer approach. Along with VR Surat, our inauguralFlagship Center in Gujarat, which opened in 2013, our rapidly maturing portfolio includes Flagship Centers in Bangalore and Chennai which will open in 2015-16. We are very pleased that Raghu will guide the company through this period of accelerated growth."
Rohit George, Principal at Xander, added, "With his background in retail and retail real estate, we believe Raghu is uniquely positioned to lead Virtuous Retail into new markets such as the Delhi-National Capital Region, Hyderabad, Ahmedabad and Chandigarh, as we grow the portfolio through acquisitions and Joint Ventures".
Raghu, a seasoned retail professional with over 30 years of experience joins Virtuous Retail from the Prestige Group, where, as CEO Retail for the past 6 years, he was responsible for the shopping center business including the Joint Venture with CapitaMalls Asia. He has also worked with DHL Worldwide Express as Country Head of India, with RPG as Vice President, Operations of Foodworld, and with the K Raheja Group as CEO of HyperCity.
In a related development, Virtuous Retail also announced the appointment of MN Hariharan as Director, Finance, Virtuous Retail Services Pvt. Ltd. Hari brings over 22 years of industry experience in informational technology, construction & project management, and retail real estate. He joins Virtuous Retail from Inorbit Malls, where he spent 7 years as part of the senior management team with core expertise in Finance & Enterprise