VizKonnect: Connecting brands to consumers in retail spaces
By Dipanjan Mukherjee | Vjmedia Works | December 16, 2015
The Azva brand zones were created to give prospective customers an immediate point of reference for the products so they could envision the product on themselves.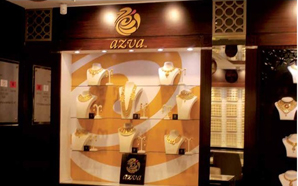 Vizkonnect is a professional Below-The-Line agency established in 2014 by senior Ad Agency managers who bring over 30 years of combined OOH, Retail & Activation experience across markets to the table. The inhouse talent has handled large scale projects and has had successful stints with agencies like Madison, O&M, Starcom MediaVest and Kinetic. VizKonnect offers specialized service in tailor made on-ground marketing solutions for brands and offers specialized strategic design and execution solutions in the disciplines of Retail Design, Visual Merchandising, Brand Activation and Event management across the country.
VizKonnect believes in an immersive relationship with its clients and believes in a strategic approach to its client's business starting from extensive brand study to understand the brand ethos followed by strategic conceptualization and taking it into realization of the solution and implementation in the market place.
This approach has been well demonstrated for a key client of VizKonnect- jewellery brand Azva. The brand specializes in exquisite Bridal Jewelry that blends old world heritage with contemporary ideologies and caters to modern, upwardly mobile couples with a taste for intricate designs and fine craftsmanship. The objective for Azva was to create aesthetically designed Brand Zones at organized Retail outlets and Regional retailer shops. The need also was to create a uniform and distinct look that represented the brand's essence and signature look and feel.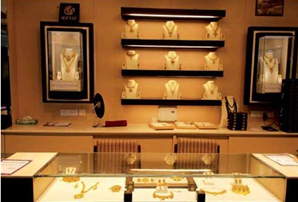 In their past year and half of association, team VizKonnect has invested considerable time in learning the essence of the brand Azva, its ethos and what it represents to consumers. A brand study was conducted to immerse the brand team in the traditional actions and established ways of Azva, to understand the thought and the spirit that drove brand Azva.
Vijay Cavale, Director, Vizkonnect said, "We believe that effective Visual Merchandising is instrumental in attracting consumers and fosters an immediate association with the brand. What consumers experience when they walk into a store dictates what they buy today and ensures their return tomorrow. For Azva Jewellery we have always endeavoured to keep a keen eye on detail and implement effective design ideas that appeal to consumers" (Should come after Vaibhav's quote)
With a dedicated and experienced team working in complete sync with the brand, VizKonnect has been able to provide unique solution that helped the brand succeed in the market place. To fully imbibe the brand's ethos and create a worthy environment to which both the brand and customers feel familiar with, VizKonnect adopted the '7 vows' of the brand and devised their own 7 vows to accomplish the task. The vows that were used for the conceptualization of the solution are Transparency & Clarity, Support & Respect, Dedication, Trust & Honesty, Consistent Growth, Systematic Process and fueling.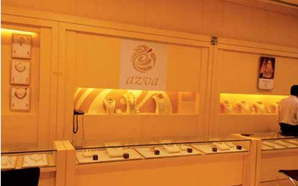 The Azva brand zones were created to give prospective customers an immediate point of reference for the products so they could envision the product on themselves. To reinforce the brand and its design sensibilities the Azva logo was tastefully rendered across the brand environment. The retail spaces were also made as productive and efficient as possible to optimize the sales space for maximum delivery. The displays were kept simple yet elegantly premium with an uncluttered presentation to draw attention to individual products supported by props that were in simple forms in the signature color of the brand and the logo. The project took 8 - 10 months for completion and was completed in batches of 40 - 50 locations at one go in very effective collaboration between the brand and the VizKonnect team.
Vaibhav Singh, Marketing Manager Azva testifies, "VizKonnect has helped us establish a strong ground towards retail expansion - Azva zones set up across 44 cities in the country. The Azva zones were set up - very smooth executions in prestigious and high end jewellery retail stores. They were very thorough and flexible in developing a plan that suited our highly complex and unique requirements. The planned work and process were spelled out in detail inour contact and the statement of work objectives and expectations were met in full. The level of their professional services and support can serve as a benchmark in the industry. Team VizKonnect work more like business associates rather than vendors."
VizKonnect successfully operates out of 4 full service offices in Mumbai, Delhi, Bengaluru and Kolkata, with representative offices in 8 other cities. They have a large work portfolio of brand across multiple sectors like BFSI, F&B, Jewellery, IT, Auto, Telecom, FMCG and Healthcare.