Walmart names China CEO Asia head
By Christopher Brace | Vjmedia Works | April 26, 2014
Current chief Scott Price moving to headquarters in Bentonville, US, as executive vice-president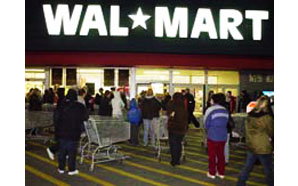 Scott Price, president and chief executive officer (CEO) of Walmart Asia, who recently announced expansion plans for India, is moving to the US headquarters in Bentonville, Arkansas, as executive vice-president (international strategy). While the world's largest retail chain, with revenues of $473 billion, is calling it a promotion, experts said the group may be looking at a new growth strategy for Asia, through management changes.
Greg Foran, president and CEO of Walmart China, has been named president and CEO, Walmart Asia. He will be based at the Asia regional office in Hong Kong. Foran, with 30 years in the retail sector, will also look at the group's India plans.
Last year, Price had criticised India's foreign investment policy for multi-brand retail, saying under the guidelines, it wasn't feasible to roll out supermarket stores. The group also severed ties with Indian partner Bharti Enterprises. Under Price as Asia head, the India CEO, Raj Jain, was replaced by Krish Iyer from Walmart International.

The company has been in the midst of investigations under the US's Foreign Corrupt Practices Act (FCPA), leading to the suspension of various executives, including in India.

A few weeks ago, Price had said Walmart would open 50 cash-and-carry, or wholesale, outlets in India through four to five years. Now, it has 20 such stores in the country. The last was opened in October 2012. After that, the company froze expansion due to the probe under FCPA.

Price had also announced the company would take e-commerce initiatives in the cash-and-carry segment.

With Price moving to the US, the company's India plans might have to be redrafted at a time when the country would see a new government at the Centre, observers said.

Though China has been an important market for Walmart, the company is facing significant competition from local rivals in that country and has decided to shut some stores there. Recently, Walmart also saw a workers' strike in China, as well as a controversy related to tainted donkey meat it sold in that country.

Sean Clarke, Walmart China's chief operating officer, has been named president and CEO of Walmart China.

All the changes were effective June 1, a company statement said. "These promotions allow us to tap into the extraordinary talent we have in our company, leverage their unique strengths to benefit the entire organisation, and ensure continuity of leadership in China and the region," said David Cheesewright, president and CEO of Walmart International.