We'll not take our eyes off volumes: Sanjiv Mehta
By Marthy Barmejo | January 24, 2017
The note ban announced in November 2016 crimped volume sales by 4% at HUL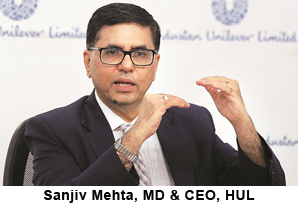 The note ban announced in November 2016 crimped volume sales by four per cent at the country's largest consumer goods firm, Hindustan Unilever (HUL). This was the second straight fall in volume growth for the company after the September quarter, when volume growth declined one per cent. In a media interaction, Managing Director & Chief Executive Officer Sanjiv Mehta highlighted where growth was hit the most for the company and its way forward. Edited Excerpts:

What is your assessment of the market and how do you think HUL fared against this backdrop?

It was a challenging market, where there were both pipeline and offtake issues due to the liquidity crisis, triggered by the ban on high-value noted. So, we had to react dynamically in keeping with market reality, extending credit period to the trade (by 15-20 days), seeing which products, markets and channels were under stress and what we could do to improve sales performance in these areas. Against this backdrop, there was an impact on underlying volume growth, which declined four per cent. In individual categories, personal care saw the sharpest fall at three per cent (in terms of sales growth). Foods and home care saw marginal growth at one per cent each, while refreshments was the best-performing segment, seeing an eight per cent (sales) growth. This was led by double-digit growth in tea, which is an essential item.

Premium products did better than mass products in terms of sales growth in the December quarter. What led to this?

This is a factor of urban versus rural play. All those products that had greater exposure to rural, which includes our mass-market brands, were hit due to the currency crunch. Premium products did well in urban areas, more so in modern trade. Modern trade as a channel has been a growing one for us. However, our observation was that it did much better than general trade in terms of sales growth in the December quarter. Hence, premium products such as Surf, Ponds, Lakme and Dove benefited from this trend.

How long do you think the note ban pain will last and is growth possible in an environment where volume growth is difficult to get and input prices are shooting up?

We're still assessing how long the pain will last. But, broadly pipeline issues should ease by the first quarter of the next financial year. While we're cognizant of the interplay of price and volume in our business, we will not take our eyes off volumes.

You launched a master brand called Lever Ayush in the December quarter. How is this expected to help you?

Lever Ayush targets the belly of the market. We have 27 stock-keeping units across categories that we have developed with our partner Arya Vaidya Pharmacy. We have started with the south and will take it across markets (north, east and west) in the future. But the launch will allow us to mark our presence across segments in the growing naturals market.

Additionally, we our pushing our acquired Ayurveda brand Indulekha in premium hair care and Fair & Lovely (in skincare), where we have recently launched new herbal variants.