With cities in the bag, Cadbury to unlock rural demand
By Dinesh Jain | Vjmedia Works | December 30, 2013
It is keen to tap 75 per cent of rural potential for chocolates in the next four years, having'up-aged' its audience and created occasions for urban consumption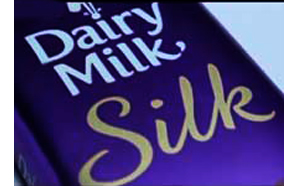 The tired-looking career woman decides to kill time while waiting in her car at a traffic signal by biting into a bar of Silk, the premium chocolate from Cadbury. So engrossed is she in her experience that she forgets that her face is smeared with chocolate till the driver in the neighbouring car reminds her of it.
Three old friends are sitting together when one of them opens a pack of Cadbury Gems. He decides to pop in a few gems into his mouth, but finds that his two dear friends are staring at him in the hope of popping in a few themselves. The man in the centre contemplates for a few moments and decides to share his pack of gems with just one of them, his "bestest" friend.
A couple wants to marry, but is upset with the opposition coming from the girl's family. They have a bar of Cadbury Perk and are so energised that they decide to tie the knot quite literally on the run. There is one thing that is common to all three commercials: Adults. With per capita consumption of chocolates in India, according to industry estimates, at under Rs 80 per year versus Rs 10,000 a year in Britain and Rs 5,000 annually in the US, leader Cadbury has a tough task: To broaden consumption of chocolates beyond the traditional target group of children.
"Up-aging" consumers is one way through which the chocolate giant, which controls 70 per cent of the Rs 4,500-crore market in India, has attempted to increase consumption of the product. In the process, the company, which began operations in India in 1948 and remains an iconic brand in the country, has ensured that it leads the pack with products that span the need and price spectrum. "We have stayed ahead of competition by growing the category. This category growth has come through behaviour-changing advertising, innovation and growing width and depth of distribution," says Siddhartha Mukherjee, executive director, chocolate category and media, Mondelez International, India, the parent company.
From the flagship Cadbury Dairy Milk to little Cadbury Shots, Gems, Perk, 5 Star, Bournville, Silk and Toblerone - the British chocolatier - which was acquired by American foods giant Kraft (which devolved its food business to Mondelez) in 2010, Cadbury has left no stone untouched in its drive to ensure that consumers don't slip out of its fold.
"There is a huge opportunity to grow overall consumption of chocolates in India. There are robust plans to grow the core and also to launch new products to tap the market opportunity," Mukherjee adds.
Creating occasions to consume
Besides targeting adults and making its presence felt across the product value chain, Cadbury has done a few more things to maintain its leadership in the Indian market, which in the last few years has seen stiff competition from local as well as international brands. The chocolate major has quite simply worked on creating occasions to consume its product.
Says Mukherjee, "Traditional sweets or mithai consumption is huge in India. To promote the consumption of chocolates, Cadbury has over the years run the Kuch Meetha Ho Jaye (let's have something sweet) campaign, which borrowed from the Indian tendency to have something sweet during a happy and momentous occasion."
So everything from one's pay day to celebrating when one clears an exam to celebrating on winning a beauty pageant, Cadbury has used every possible lever to put its product right in the centre of an Indian's life. In recent years, it launched the high-profile Shubh Aaramabh (a good start)) campaign, again borrowing from the Indian tendency to make an auspicious start to everything in life.
Experts say that Cadbury has cleverly managed to stay relevant to Indian consumers with the right choice of subjects in its advertising, always tugging at the heart with its emotive content. People, for instance, to this day vividly recall the female model (Shimona) dancing wildly on the cricket field when her friend hits the ball to the boundary as he looks to complete his 100 runs in the 1994 Real Taste of Life ad campaign. From then to now, the brand has covered much ground. But even as Cadbury makes consumers sit up and take notice of it, the company has also expanded distribution, placing coolers in big stores and taking its products to small towns and cities. The company is believed to have expanded to villages with 5,000-10,000 population in nine states and is set to establish a scalable distribution model in these markets by 2015.
The aim is to tap at least 75 per cent of the rural potential for chocolates in the next two-three years, taking its overall retail reach beyond the one million outlets that it currently has.