Yebhi.com reaches its audience via virtual stores in CCDs
By VJ Media Bureau | Vjmedia Works | May 22, 2013
The online shopping portal installed virtual stores in Cafe Coffee Day outlets in Delhi and Bangalore to make shopping quick and easy for its shoppers.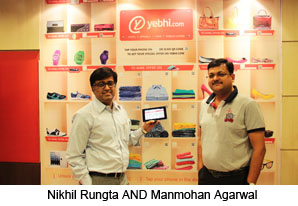 Yebhi.com, online fashion and lifestyle shopping portal, has launched another path breaking initiative to promote their website and collection. The brand has installed virtual stores across Café Coffee Days where customers can buy products from a virtual wall. They have started with 30 virtual stores across two cities - Delhi and Bangalore. The customers can view, choose and buy from a large range of products like apparels, shoes, accessories, mobiles and home products from the wall.
Manmohan Agarwal, Founder & CEO, Yebhi.com said, "I am extremely proud of the great work the Yebhi team has done to launch this idea in the CCDs across India. We are always looking to make the shopping experience easier and more convenient for our customers and the introduction of the virtual store is a great achievement. This is a real triumph for the Indian ecommerce industry as it continues to be at the forefront of technological innovation".
The idea was to make the shopping simple, quick and easy. The virtual stores feature pictures of merchandise from the website, with each having a corresponding QR or NFC Code - two of the latest technologies. The customers can select any item by scanning the QR code or tapping on the NFC code via their smartphones, which will be take them to the Yebhi.com website, where they can buy the item and will then be delivered to their doorstep. To make it even attractive, customers will get an instant discount of Rs 200 if they buy at Yebhi's virtual store.
Nikhil Rungta, Chief Business Officer, Yebhi.com added, "This is an exciting opportunity for Yebhi.com to directly communicate with our customers. We have always changed, evolved and designed our offerings to suit the demands and requirements of our customers. Today, Indians living in big metros are very busy and this initiative offers them an opportunity to shop while they chill. We settled on outlets near corporates and youth hangouts as customers who come here have time on their hands and money to shop. With the virtual store, we are taking online shopping to next level by touching base with our customers and allowing them to shop from anywhere, at anytime."