Zara opens first store in Gujarat
By VJ Media Bureau | Vjmedia Works | November 22, 2013
The global fashion brand has unveiled the store at VR Surat, the biggest retail centre in Surat. With this Zara has a total of 14 stores spread across the country.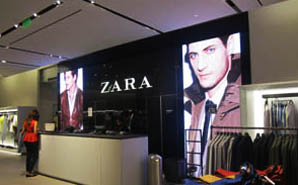 Zara, the flagship brand of the Inditex Group, announced the launch of its first store in Surat, Gujarat . Spread across 27124 sq ft, the store is located at VR Surat, the biggest retail centre and lifestyle destination in Surat. The new store displays all three collections: Men, Women, and Kids Fall/Winter 2013-14 collections.
According to the brand, the store image is based on the four principles of beauty, clarity, functionality and sustainability. The store design primarily emphasizes simplicity as an ongoing mission to facilitate direct contact with customers making shopping simple. New concepts of materials and colour combination lighten up the new interior, distilling the brand's latest image, highlights the importance of direct customer contact with Zara products in an interference-free and beautiful environment.
With this store, Zara has a total of 14 stores across Indian cities including Mumbai, Delhi, Gurgaon, Bangalore, Pune, Chandigarh, Jaipur, Chennai and now in Surat.
Present in 86 markets across the globe, Zara now has a network of 1752 stores.