Aludecor launches advanced ACP facades
By Satarupa Chakraborty | December 19, 2017
Denying the use of silicone sealant that leads to short life of ACP sheets, Systems, the new range of ACP façade system from Aludecor saves energy, acts as screen to rainwater, controls temperature of interiors and adds to the aesthetic value of the building.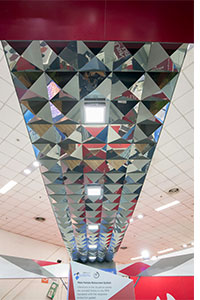 Aluminium Composite panel (ACP) manufacturing company Aludecor has recently launched a path breaking technology by the name of Aludecor Systems which can redefine the aluminium composite panel facades in India. These sheets deny the commonly-used silicone sealant which is used to fill the grooves of a typical ACP façade in India but has a short life to pose structural decay with time.
Aludecor Systems is a framework and accessories set-up that ensures low or zero maintenance. With no use of silicone, there's zero worry about leaks and stains. The range also provides ventilated façades which prevents rainwater storage as well as control the temperature of the interior thus saving energy usage. The range also takes care of the aesthetics of buildings several notches higher.
The Systems facilitate rainscreen cladding, which also reduces the force of wind-driven water movement, preventing it from getting into small breaches in the surface of a building. There are three systems: the Pressure-Equalised Rainscreen System (PER), Hanging Rainscreen Systems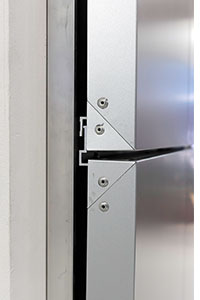 (HR) and Male Female Rainscreen System (MFR). PER can be used in the grooves of the façade thus enabling to achieve the same colour across the grooves through the façade. Hanging and Male Female Rainscreen systems provide thermal insulation thus leading to conservation of energy.
Ashok Kumar Bhaiya, CMD, Aludecor, explained, "Although the initial cost of installing ACP with the help of these Systems is a little higher, it is cost effective in the long run sinceit requires negligible maintenance. Many Architects and builders are discouraged to use ACPs only due to the sealants used as they often leak and bleed, thus killing the look of the façade. The young Design & Application team of Aludecor has developed something that's in vogue in the West, and now our country too can have equally marvelous ACP facades,"
The technology has earned rave reviews from the industry experts. VS Ravi, President of Façade India Test Inc. (FITI), said, "Aludecor Systems is a wonderful step that's beneficial for the whole industry. I strongly believe that facades should be clean and remain shiny and sparkling for years and rainscreen principle helps achieving that goal."