Arrow Digital installs Efi- VUTEk 5r at Macromedia and Hannu Marketing
By Nabamita Chatterjee | March 13, 2018
The Vutek LED roll-to-roll 5r can handle a variety of flexible and rigid media, it's a perfect match for all close-view indoor and outdoor applications including building wraps, billboards, fine art, floor graphics, POP, signage, tradeshow graphics, wallpaper, etc. The device uses an optional Efi-Matan technology to incorporate its inline finishing as well.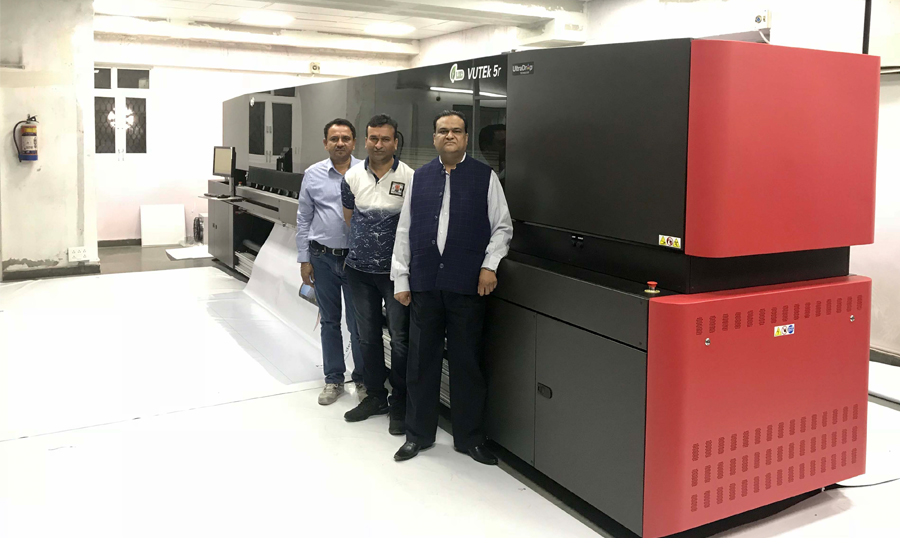 Arrow Digital recently installated their Efi VUTEk 5r LED UV inkjet Digital Printer at Macromedia and Hannu Marketing in Delhi. The VUTEk 5r is one of the most advanced and the fastest LED roll-to-roll printer in the market. Maxed-out platform with blazing speeds of up to 5000 Sq.ft/hour, it is designed to offer the highest image quality at the highest rated throughput speeds along with the highest range of options to give the lowest total cost of ownership.
Naresh Kumar Dasari, from Macromedia shares that, when it comes to Quality, Productivity and Speed we trust Efi Printers. With the increasing demand of the corporate customers and to be ahead of the competition we wanted to go for the best. We saw the samples of Vutek 5r, which were outstanding. Still we wanted to test our files and feel the difference. We tested it rigorously for text, colours and vibrancy and the output was fantastic. Still we wanted to be sure with our decision. We made our Graphic team work on the most complicated files and tested them during our demo at Brussels. Looking at the output we were confident on this platform. We were also impressed with the VUTEk 5r's higher ink efficiency and ability to reduce wasted media to just 40cm of material per load.
Vinod Gupta, Managing Director Hannu Marketing Pvt. Ltd. adds, We had seen the EFI Vutek 5r at EFI Democenter at Brussels and got thrilled with the Speed and Quality. We tested it on various speeds and modes and the results were mind blowing. We showed the samples to our corporate clients and they were also pleased with the results. We chose the 5-meter Superwide format printer's for versatility and speed which will allow us to expand point-of-purchase/point-of-display (POP/POS) signage business while bringing greater performance and efficiencies to our operations.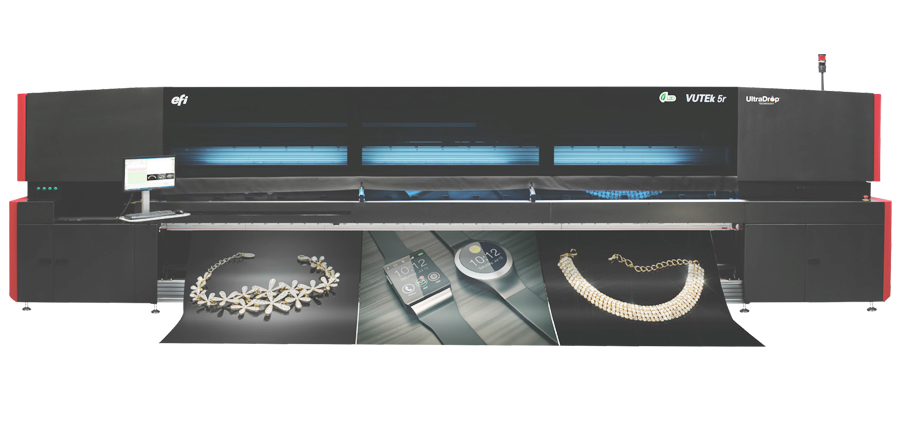 Arrow Digital adds, "The Efi Vutek 5r LED curing technology delivers cost saving and environmental benefits with resolutions up to 1200dpi. The Printer provides a 7 Color Option with EFI UItraDropTM Technology for those who want ultra-quality, ultra crispness, and ultra-capabilities. That's why Efi's UltraDrop Technology offers smaller drop sizes and more precise control. The results are ultra-impressive. Beyond all these features the "cool cure" LED technology empowers you with the ability to do more for less. Increase your profit opportunity by offering more premium-margin jobs while reducing operating costs and your environmental footprint."
Another best feature is that it is fully automatic, patented, back to back printing using auto registration camera system, giving the most economical accurate method of printing day/night balanced long signs and high resolution back lit graphics. The 5r is also capable of doing three and five layer printing in line; and with the optional vacuum table can also print rigid media, making this the most versatile high speed LED printer.