Caterpillar Signs installs latest soft signage printer
By Satarupa Chakraborty | October 07, 2017
The printer, installed by Arrow Digital, is expected to produce eco-friendly soft signages in high durability, quality and resolutions.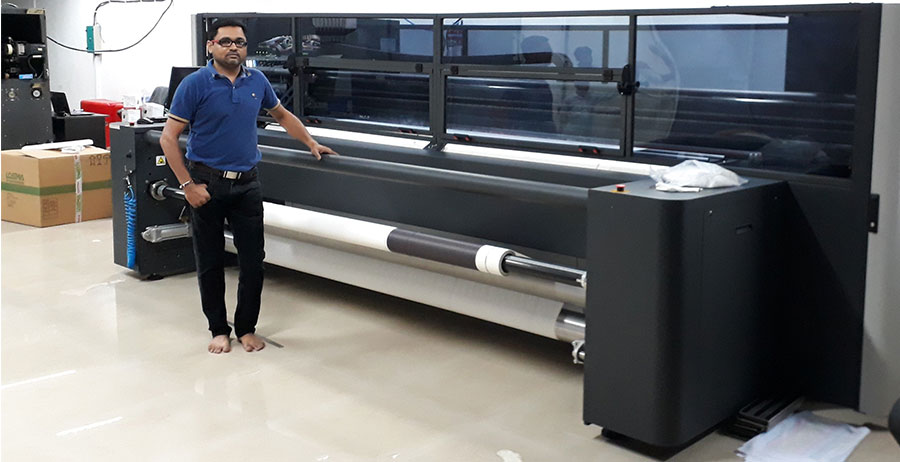 Arrow Digital has recently installed the first Efi-Reggiani Renoir Next 340, a soft signage digital textile printer at Caterpillar Signs, Arrow's valued customer in the soft signage business with UV and other dye sub printers. The new printer is expected to increase their versatility for interior and exterior stage and event projects as well as open many other markets for transfer and direct printing on polyesters.
Nishant Shah of Caterpillar Signs said, "With the recent purchase of the Efi-Reggiani Renoir Next 340 printer, we will extend our products to exhibition backdrops, light boxes, flags, building wraps, tear drops, tents, durable outdoor advertising materials and much more. Adding more green technologies in our Portfolio, we will have a huge competitive advantage, powerful and sustainable platforms to address the rapidly growing demand for soft signage and other textile markets. We will now be able to work with lightweight, polyester-based materials that offer environmental and logistical benefits, including easy and economical delivery and installation. This platform will further allow us to venture into soft furnishings and other textile short run markets. Arrow has been a great partner, helping us grow in the right direction, understanding technology and market trends, with their excellent service and support team, we just focus on our customers and their ever growing needs and staying ahead of the curve."
The Efi-Reggiani Renoir Next 340 allows to print all soft signage solutions like displays, high-density backlit signs and more with high resolution in wide range of color gamut 4-colour printing. The Next 340 is also capable of printing direct to textile or transfer paper with the ability to changeover from one to the other. It offers excellent print durability, quality and resolution as high as 2400 DPI. The printer uses environmentally friendly, aqueous, dispersed dye-sublimation inks. It can achieve a speed up to 464 m2 / hr featuring four-level grayscale printing with 4 to 72 PL drop sizes.
A spokesperson from Arrow Digital added, "Soft signage is much easier to transport and assemble, the light weight makes handling effortless as compared to traditional materials. Size to weight ratios is remarkable when compared to other materials. Large areas can be covered without unsightly joints. Once the frame work is in place, it's quick and easy to change the display material. This allows customers to change their displays frequently and increase product visibility. Above all, soft signage is Eco Friendly and reusable."