Lighting up the path to conversion
By Smita Sinha | March 13, 2019
Smart lighting makes a huge impact on the customer experience in store, it can help in customers' decision-making process and get better conversion rates. Lighting companies like Lightup and Red Lightings, having realized the importance of this, are innovating with lights to make it smarter and usable for dynamic purposes.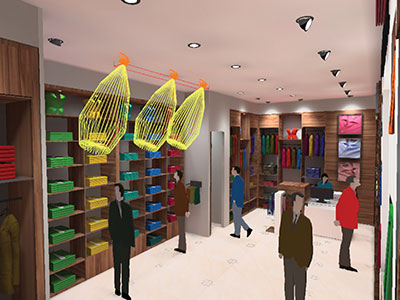 In a store, smart lighting makes a huge impact on customers' experience, helping them in their buying decision. Lighting, if done right, can influence the path that the customer takes through a store. According to a Capgemini report, a dynamically lit store setting can make 11% of people stop at the shop window during weekdays and up to 19% enter the store. Adding colours to certain areas of the store, can further help up to 15% more people enter the zone.
Smart lighting equals better conversion rates
No wonder many lighting companies are innovating with lighting to influence the routes that customers take through the store and help generate more sales. The introduction of LED has further enabled smart lighting, making it usable for dynamic purposes. This also means intelligent use of lighting solutions based on the

product category.
For example, for Mumbai based Beautex, which manufacturers wooden flooring solutions, doors and windows, the need was for lighting that would create life-like ambience, one that resembled the customers' residences and office spaces so that they could choose the right flooring product. To address this need, Mumbai-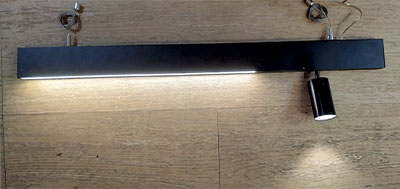 based lighting company Lightup provided Beautex with a Bluetooth-automated LED lighting solution.
"Two rows of track-lights were installed along with diffused profile lights to enable the customer to check out the flooring under both spot lights and evenly-distributed lights. With the help of in-house Bluetooth app, the customers can dim-brighten, switch on-off, change colour temperature and create the perfect lighting that resembles to their home/office. Moreover, the CRI (colour rendering index) of these lights is 97, which brings out the natural colour of the flooring," Lightup said in a statement.

According to Lightup, this simple solution can be controlled by the in-house Bluetooth app, Lightup HUA, on any smart-device, which gives the customers the freedom to change the lighting themselves and thereby be able to choose the best possible flooring option for their homes or offices. These lights can also be controlled using Google Now and Alexa.
With the installation of these automated lights by Lightup, Beautex was reportedly able to push the customers' decision-making process and get better conversion rates.
Redefining illumination
Another Mumbai-based lighting company Red Lightings is redefining illumination for architectural projects by providing lights, lighting designs with technical specifications and its solutions that helps in achieving better illumination of light quality and quantity so as to avoid excessive lightings. This is done using energy-efficient lighting components, controls and system; installing task lights where needed and reducing ambient lighting elsewhere. It also helps in maximizing the use of daylight.
"Lighting design requires a technical understanding of electricity, light resources and a vision while also a sensitivity to architectural and aesthetic issues. The end design needs to meet the visual requirements for human eyes performing an endless array of tasks, while also illuminating the architectural forms to immediate environment," Red Lightings said.
The company has introduced LED Zoom Ceiling Light, which is made of high-quality die casting aluminium. It has a unique cooling system design and its reflector optic outstanding strategy makes output reach its optimal presence, according to the company.
Its design for recessed mounting, easy replacement, vertical 60°degree adjustment and 350°degree rotation, ball structure design makes position fix easier, smooth and strong impression. The LED Zoom Ceiling Light is available in 10W, 15W, 25W & 35W and is available in 3000K, 4000K and 6000K colours. It also has beam angles of 24° degree & 38° degree (± 5°).