Mirrorsize India launches 3D body scanning tech
By Satarupa Chakraborty | May 17, 2019
The body scanning tech can be implemented at in-store screens and online interfaces to ease out the trial process for customers buying apparels.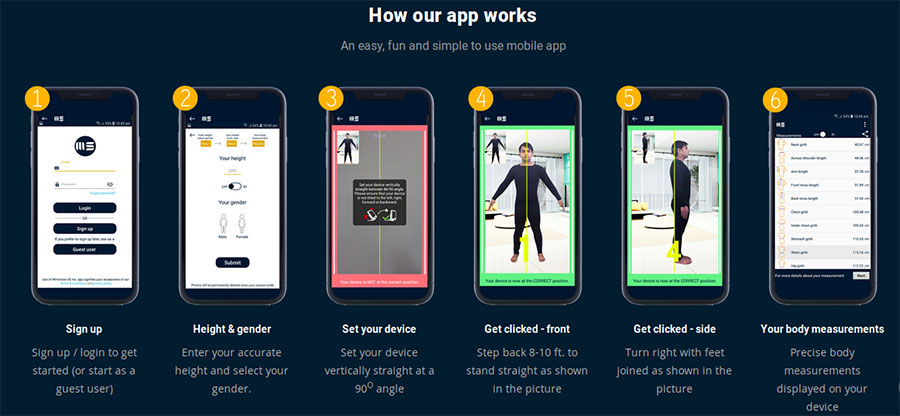 Mirrorsize, the Indian arm of the New Jersey headquartered start-up Mirrorsize US Inc., has developed an artificial intelligence-enabled device agnostic body scanning app that promises to solve a major headache for the brick-and-mortar apparel brands and e-commerce portals and help in harnessing the full potential of e-tailoring opportunities. The company will soon provide licensing to one of India's leading brands who has a network of 20000 stores.
Mirrorsize applied for patent of its 'body measurement system' in India in December 2018. So far it developed two products using the system:
1) MS GetMeasured for bespoke merchants/brands, offering custom-made or made-to-order clothing solutions. Currently such merchants fail to tap the e-commerce potential due to body measurement issues.
2) MS Size2Fit for merchants/brands selling readymade apparels. This product gives perfect size recommendation by apparel and brand type.
Arup Chakraborty, Founder, Mirrorsize, told Retail4growth, "Globally, size and fit issues are dogging online sales of apparels. Different studies indicate that 30 to 40 per cent of online customers back out the moment they are asked to pick a size. A substantial chunk of the online customers return the purchase for size and fit issues. Returns and rejections are sometimes as high as 55%. This leads to causes two major problems for the industry: Cost to manage returns and lowers customer loyalty index - which brands cannot afford in today's competitive market. The device-agnostic app developed by Mirrorsize works on ANY smartphone, tablet and laptop, and requires no investment by the brands and their potential customers. The customer should merely send two images (front and side) on any background and the app will deliver precise measurements in a few seconds on his/her mobile or tablet. The error margin is as low as one centimeter, which is the most precise 'body measurement system' available in the marketplace."
To improve personalization and to enrich customers shopping experience, Mirrorsize also plans to launch a draping solution. The soon-to-be-launched product will create a 3D image of the customer and drape him/her with the apparel of his/her choice, on real time basis. The customer can see how the dress will look on him/her in different postures and from different angles.
Similar News
Once connected with CMS server, these tent cards will enable remote content management.
Bengaluru-based virtual reality startup LifeVR is creating an immersive and interactive virtual future store that can study customer actions and preferences and allow retailers to better understand these dynamics without being an intrusive element.
This Startup is part of Tathastu Open Innovation Program, a Future Group initiative.