New technology to help retailers map customer data with sound waves
By Smita Sinha | February 19, 2019
Bengaluru-based startup Trillbit has developed a technology that can convert any audio speaker into data transmitter and any smartphone into data receiver through its proprietary technology Data over Sound, which essentially helps retailers leverage customer data.

This Startup is part of Tathastu Open Innovation Program, a Future Group initiative.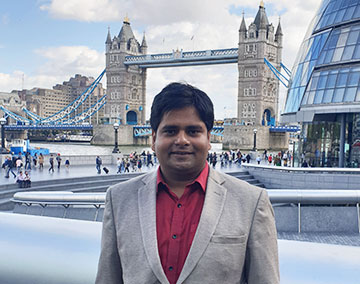 Today every retailer across the world is looking to provide a seamless and tailored experience to the customer by leveraging real-time data. Mobile apps, chatbots, Bluetooth-enabled beacons, AR and VR are playing a vital role in enabling this. However, one aspect that has still not been utilized adequately and which offers immense potential is sound. Rising up to utilize this opportunity is Trillbit, which has developed a technology to convert sound into data for retailers.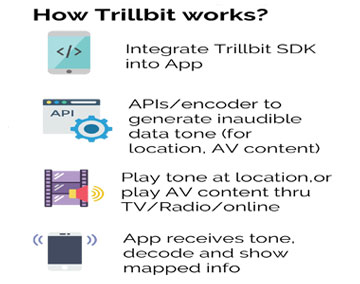 Founded by three IIT Kharagpur alumni - Bhaskar Deo, Shashikant Burnwal and Mrigesh Parashar, the company has developed a system called 'Trill Tones' that can help convert any audio speaker into data transmitter and any smartphone into data receiver. The Trill Tones is a type of sound that the human ear does not register but a smart device can pick up and decode.
Trillbit basically helps retailers get precise analytics about their consumer behaviour and measure their advertising reach and effectiveness.
All that the retailer has to do is to simply integrate the Trillbit SDK (Software Development Kit) into their app. The application program interface or encoder will then generate the inaudible data tone or Trill Tone and play the tone at their stores and the retailer's app will receive the tone and decode and show the mapped information of the customer.
According to Trillbit, this helps the retailer interact with shopper in real time using Trillbit's technology. By detecting their presence with their ultrasonic microzoning, the retailer can target their customer according to their behaviour with customised offers and discounts.
Interestingly, the Bengaluru-based Trillbit's Trill Tones does not require any special hardware, or even an internet or WiFi connection, which makes it very convenient.
Talking about how the technology works, Co-Founder and COO Shashikant Burnwal of Trillbit said, "We work on a very specific technology called 'data over sound'. We use sound waves to send the data to the retailers. Every store and shopping mall now a days has speakers. We use the existing infrastructure or speakers to send the data to the users who are at the store. For example, if the app user is at the store and the speaker plays my inaudible Trill Tones, then that app will receive the signal. Once the app receives the signal, the signal will be transmitted to the retailer, who will be able to detect the user's presence at the store and based on that data, they can use their own algorithms and start pushing customised offers and information to the user."
The retailers can also target the customers watching their ads on TV or YouTube using the Trillbit's technology. They can send the information directly to the retailer app user's smartphone without the need for any network, by adding inaudible sound waves on top of their broadcast.
"If an app user is watching the ad and the brand wants to send some offer information or link to buy the product online, they can do it through our technology. With the help of this technology the brand or retailer will get to know that this particular customer has watched their ad and that he or she has now come to the store. Accordingly, the retailer can push customised offers," Burnwal said.
"We have tied-up with music service provider Radiowalla to access 12,000+ physical locations and 200+ brands in India. Through them we can now actually play our data tones at any store or shopping malls. Once we enable the location to play our tones, other apps, besides our current retailer, will get benefitted if we are able to build the network of locations. For example, mobile wallet app like Paytm is now enabled in all the major retail stores. Paytm will be very interested now because our data tones are playing in all stores. So now they can also send the notifications to their users at these venues, offering cashbacks and other incentives to them. We are also working to removing the entire QR process for them. As of now when you go to a store you scan QR code but now we are replacing it with our data tones. We are in fact removing the entire QR scanning process," Burnwal explained.
Founded in 2017, Trillbit is currently running its Trill Tones on a pilot basis with some major retailers in India. It is also exploring opportunities with organised retailers, besides top wallet companies and F&B brands.
Similar News
The new billing solution UltraPOS is expected to enable offline stores reduce billing counter size by up to 40% and help increase sales and revenue through an AI/data-driven approach to dynamic offers, cross-sell and upsell.