A statement in spatial transparency
By Satarupa Chakraborty | November 29, 2018
Spread across approx. 1500 sq ft and designed by Kolkata and Bangalore-based architectural firm, Open To Sky, eminent couturier Rahul Mishra's latest flagship store at Mumbai's Kala Ghoda is a re-discovery of an old typology of a building.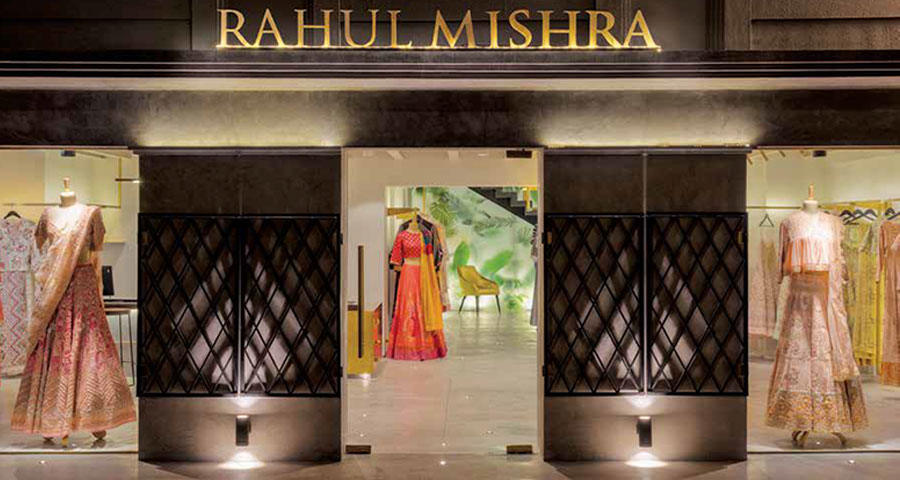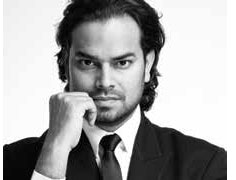 The overall design sensibility of couture designer Rahul Mishra's latest flagship store at Mumbai's art district Kala Ghoda revolves around spatial transparencies woven throughout the store. The architectural crafts, delusional interpretations and material palette ensure a continued pattern of walking and shopping, while celebrating the couturier's passion for craft.
Located in an old-style building, the space, divided into one and half (mezzanine) floor, was earlier used as an office. The old typology of the building proportion offered desired depth, but not the width, thereby posing the challenge of darkness inside the store. To maximise the sunlight, four openings including the main entry of the store were added to the street-facing wall, which also functions as the façade of the store. Inner rooms are connected with the sunbathed front room with a vestibule to allow possible amount of sunlight to stream inside. These openings also work as vantage point that offers a holistic look of the entire store.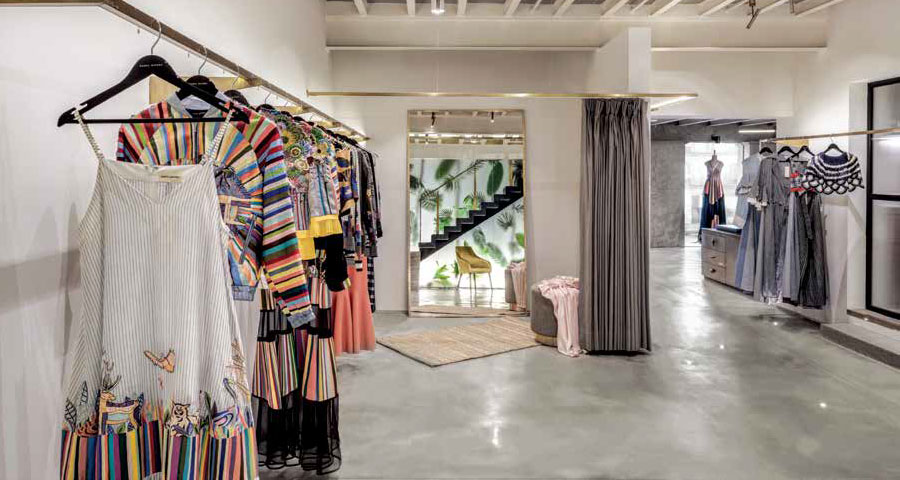 The inner layout of the store contains the baroque mannequins to sit in the front room, while the merchandises are showcased in the inside room and the mezzanine floor acts as the atelier floor that is also used for interactions with the designer. Since the inner room is abstained from direct sunlight, a frosted glass wall has been added to this room, that offsets some plants outside. At the other side of the frosted glass wall, artificial lighting system is added to give virtual impression of natural light.
The store flooring is a combination of polished cement floor with brass detailing, which continues uniformly throughout the store. The brass display fixtures use only hanging variety to render a feeling of floated merchandises.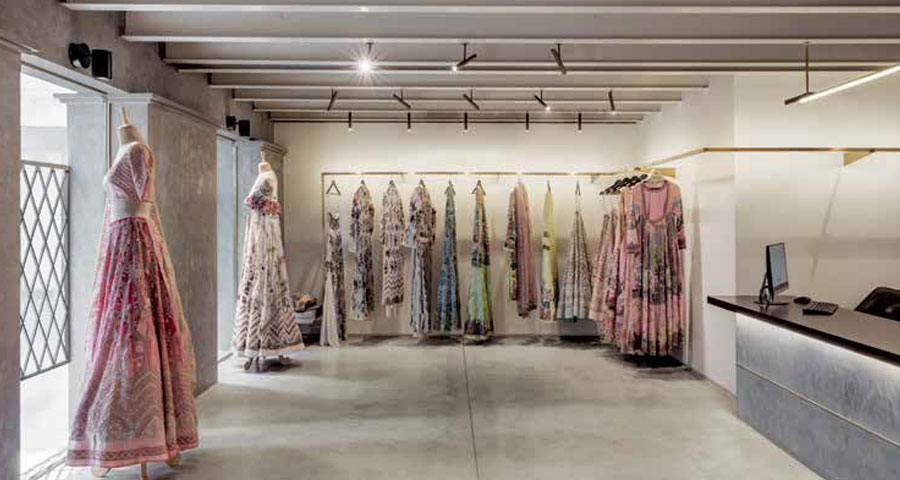 The workshop on the mezzanine floor, sitting on the right side of the atelier room, brings another level of "transparency" as it is divided via ribbed glass panel, through which the movement of the masterji can be viewed partially. This sense of delusion takes the store to a different level altogether.
Design: Open To Sky Architects and Bombaim
AC: Mitsubishi supplied and installed by SP
Sanghi Airconditioning Pvt Ltd
Lighting: Voylite labs Pvt Ltd
Furniture: Inspired Lifestyles Pvt Ltd
Upholstery: Pride
Accessories: Nicobar
General Contractor: Ali Abbas of Delta Contracts
Glass: Saint Gobain
Project Photographs: Fabien Charuau
Rahul's Photo: Mehtab Mann