Adidas Originals disrupts with Deerupt
By Satarupa Chakraborty | August 09, 2018
Adidas Originals' latest window that promote their shoe range Deerupt features a gridded structural wave with minimal display and evokes a pattern of geometric wonder. The scheme is the brand's global campaign and has been executed all over the world.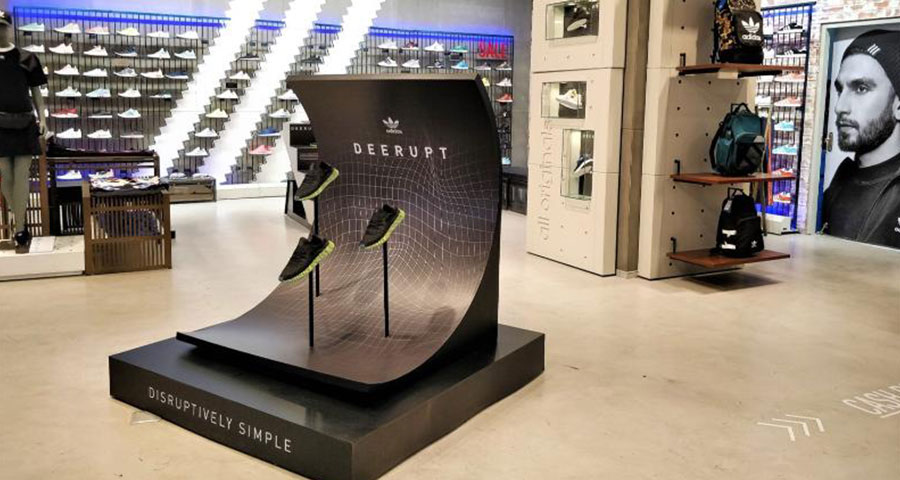 Following its global campaign, active wear major Adidas has recently unveiled their Deerupt campaign through window and in-store VM schemes featuring an interesting structural web to denote the range's stretch benefit.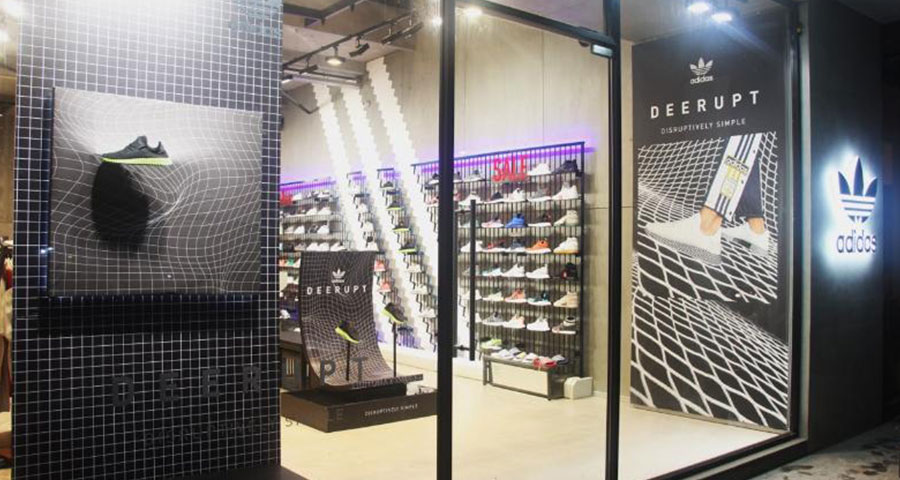 Explaining on the Deerupt range and core idea of the campaign, Priyesh Bhagat, Head – VM, Adidas Originals India, explained, "Adidas Originals' core design philosophy has always been to look at the archives and reinvent the ideas of the past for the now. But in 2018, this philosophy will be pushed to a wholly unique expression to create an entirely new concept. Taking a single idea from the archives - a structural web that once encased only the sole of some of its heritage sneakers - Deerupt stretches the concept for the entire shoe. The result is a product with a truly unique benefit: a product that conforms to the wearer.
The window back wall features a simple gridded environment which fades out towards the edges, leaving the side walls, ceiling frame and base plinths completely black. Three central panels feature warp effect peaks, created by stretching gridded material over rods. Footwear is highlighted in the middle, displayed above the grid as if it has pushed through it and broken free. Two footwear moulds sit underneath the material creating silhouettes that are trying to escape the grid. The panels are backlit to draw attention to them.
The execution was completed by following vendors:
North – HG Graphics, KVC Retail Solutions & Metromax Print
West – Retail Impact
South – Omkar Enterprises & Symmbol Digitals
East – Maa Regale