AMD - A new techy flavor
By Daya Kingston | February 27, 2013
Created within a limited time and budget, the display was distributed to more than hundred stores strengthening pan-India presence of the brand.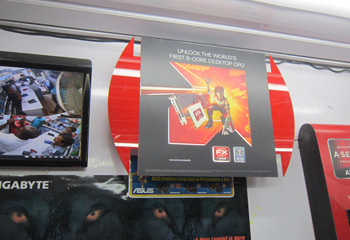 Advanced Micro Devices, popularly known as AMD came up with an extra sleek display to highlight their world's first 8 core desktop CPU features. Designed by the creative agency Leroc, this display is of actual chip size and hence highly noticeable. A smart combination of acrylic, ACP, wood and LED's gives it backlight and to top it all, there is an embossed layer on areas that requires additional attraction.
This display emphasises product superiority and gives AMD a razor sharp edge over aimilar products in the market. It is deployed over all AMD partner retail outlets in India. "Shop owners are overwhelmed to have these units, as it gives value addition to the overall decor of their store with a techy flavour. For those who are not in our mailing list have started to mount pressure on our client to produce more such units," says a Leroc spokesperson.