EE's new studio store in London is a showcase of the connected life
By Retail4Growth Bureau | August 01, 2023
The EE Studio, UK's largest telco retail space, designed by Dalziel & Pow combines physical and digital experiences to guide visitors through every stage of their connected lives.
EE, UK's largest telecom network is unveiling the future face of retail at its new flagship store, The EE Studio, located in Westfield London, White City. The store has been designed to empower customers with the best connectivity and technology solutions for their whole connected life, the 4,230-square-foot showcase will also serve as a hub for the local community to work, learn and play.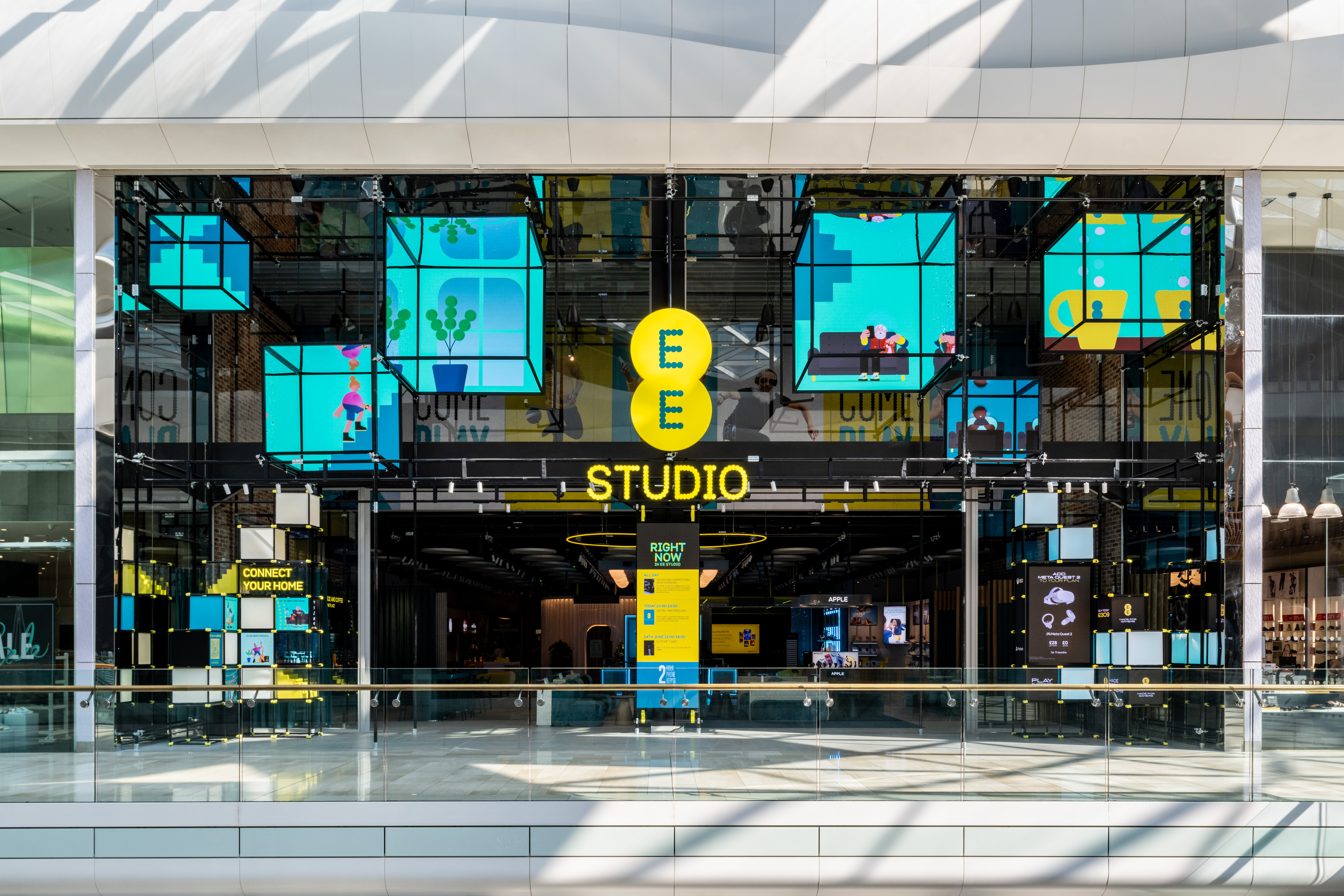 The concept has been designed by Dalziel & Pow (D&P) in collaboration with Your Studio, all working closely with EE's internal team.
The launch forms part of EE's new retail strategy, which seeks to reinvent the role of retail in the telco industry, "putting innovation, personal experience, and community front and centre" as D&P informs. The new Studio leads the way for the roll-out of the new Experience stores, the first of which are due to open in Manchester Trafford Centre, Cardiff and Bluewater in the coming months. As D&P informs, the stores situated in major UK cities, will bring technology to life for customers up and down the country.
"The innovative and inspirational new Studio space showcases a host of 'experience zones' and 'room sets' with each area carefully curated to demonstrate how cutting-edge technology and connectivity is enhancing everyday life – allowing customers to get a taste of future living, from gaming and relaxing, to working and cooking," informs D&P.
D&P further shares the following features
The experience zones:
Welcome Zone: An inviting and dynamic shopfront, including a changeable digital window canvas that lets customers see the latest product launches and in-store events before they even step inside. Shoppers can also scan a QR code on the shopfront to bring to life an AR experience that will welcome them to the Studio and encourage them to head inside and explore.
Digital Spa: A first of its kind in the UK, the Digital Spa has been designed to support digital wellbeing by showing customers how they can effectively balance their technology use. The unique retail experience also features guided meditations and an immersive sensory room with meditative naturescape content, designed to provide shoppers with a moment to relax and reconnect.
Gaming Zone: Discover what it really means to game like a pro in one of the UK's largest dedicated community gaming hubs – with elite gaming rigs, racing simulators, virtual reality experiences and the most up-to-date games and consoles, gamers of all levels can experience the latest and greatest in no-holds-barred gaming.
Base Camp: An inviting area for customers to sit down and stay a while; with comfortable sofas and chairs, work benches and collaborative worktops, visitors can stop by for a complimentary tea or coffee, catch up on emails, or speak to one of the EE team for advice on a range of products and services.
The Stage: A multifunctional, flexible, and ever-evolving hub for events, pop-ups and interactive programming. Within this space customers will be introduced to new products, brand collaborations and empowering learning opportunities, as well as have the chance to attend real life skill sessions and workshops that enable them to see and experience the very best technology.
Tech Live: Try before you buy with an interactive bench inviting customers to trial the latest innovations, discover new devices and speak to the experts. A host of technology will be on display, evolving as new drops hit the shelves, with visitors able to browse and purchase their chosen products online.
The new Studio also gives customers the opportunity to build and visualise their own personalised connected home through a 'connected home digital tool' and real life 'room sets'. The specially curated room sets include a Living Room with superfast broadband and connected home technology, a Smart Kitchen that features a range of smart cooking appliances, a Kid's Bedroom that showcases products and services to help with children's learning and keep them safe online, and a Home Office with technology to support with online security and working from home.
Bridget Lea, Managing Director of Commercial at EE, said: "Our EE Studio store has been designed to create standout experiences that reflect the changing needs of our customers and the increasingly connected lives they lead. As part of our ambition to become the most personal, customer-focused brand in the UK, we are proud to be offering our customers the chance to get up close and personal with the latest innovations and game changing technology that is right for them. Our vision for the Studio has been years in the making and so we can't wait for our customers to finally see what the future's got in store."
D&P also share that the Studio team has been chosen to reflect the diverse society in which EE serves, with different passions, side hustles and interests - all coming together with a love for technology and helping people. The team are encouraged to bring their personal interests and talents to life in the Studio, by hosting technology workshops for consumers themed around their own expertise. There is also an on-site recording studio that allows them to create and share social media content giving a behind-the-scenes view of the Studio space.
Kate Orwin, Leasing Director UK at Unibail-Rodamco-Westfield, said: "We're excited to be partnering with EE to bring the Studio store to life at Westfield London, giving consumers a new type of retail experience. Westfield is constantly pushing the boundaries to create cutting-edge places and EE is a great example of a brand combining technology and physical retail space in an innovative way to respond to changing consumer needs."
Images courtesy Dalziel & Pow