'Elements': Acknowledging beauty with swanky vibes
By Retail4Growth Team | Retail4Growth Team | December 16, 2020
Disha Saluja's new apparel showroom designed by Intaglio Design Studio, is a fine blend of intricate yet exquisite designs that grab eyeballs.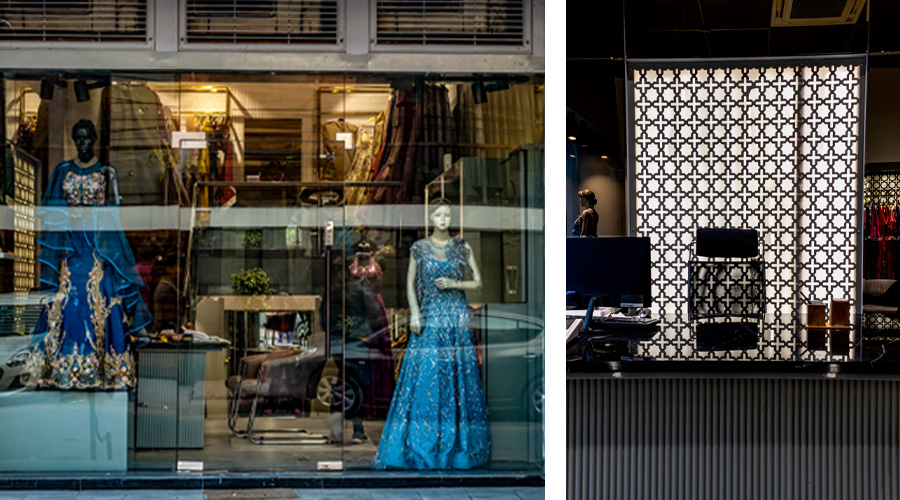 Designed by Intaglio Design Studio, Disha Saluja's 'Elements' showroom situated on the glamorous streets of Delhi grabs the spotlight through its distinctive design. The brand aims to create a space that extrudes its uniqueness in amalgamation with the displayed pieces and a plethora of pompous elements, to attract the attention of passers-by.
Commenting on the design, Ar. Chinmay Ajmani, Principal architect, Intaglio Design Studio stated, "It is an arena of functionality posing gracefully with its sophisticated and opulent vibe! Elements by Disha Saluja – is thus, not just a showroom design. It is a celebration of the brand, exhibited through a spectacular and artistic panorama curated by Intaglio Design Studio."
The store was conceptualized to have a fine blend of intricate patterns and muted tones. This aided to create a series of contemporary spaces that utilize the products on display as embellishments, forming an aura that is inviting yet chic.
With a façade designed as a sparkling glazed surface, the first look of the store provides a clear vision of the garment pieces the brand has to offer. Shades of grey, which form a major facet of the marrying concept, have been sprinkled across the scheme through the flooring and the storage spaces; creating a warm milieu to the showcased apparels. To dial up the sparkle a notch, an abstract format of the traditional Indian 'jaali' has been incorporated behind the hangers and the reception area, which successfully acts as an intricate yet exquisite backdrop.
Drawn in golden hues, a supplementary brass pattern has also been added to function as hanging apparatus for the clothing. Focus lighting on the garbs, further allows capturing the glance of any incoming user.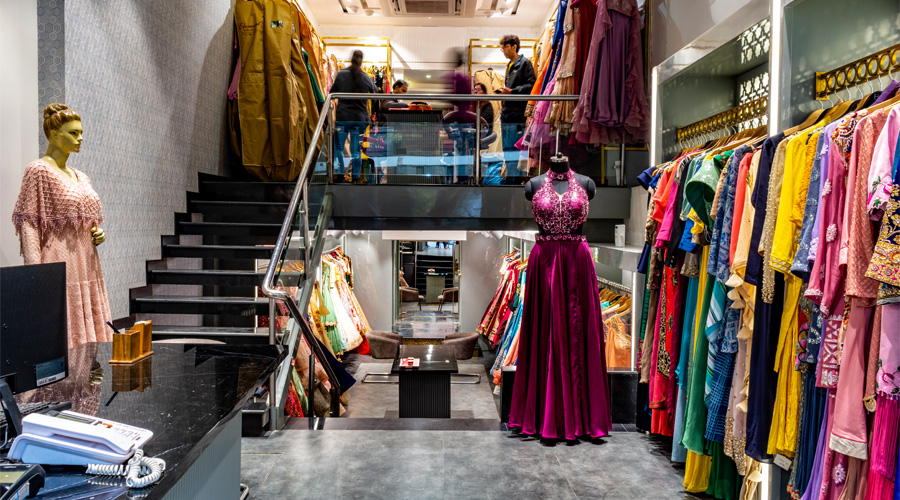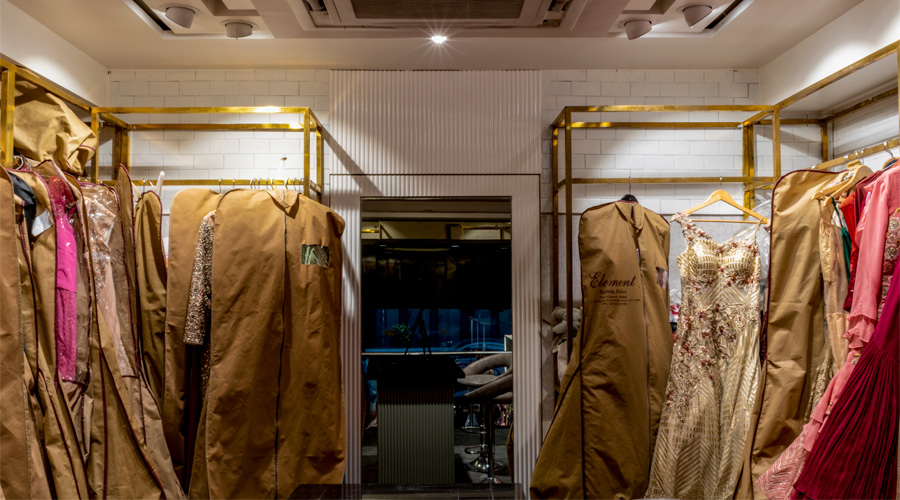 The furnishing was not a major requirement of this design endeavour. However, the principal architect sought to design the reception and center table with the ultimate precision, synonymous with every other aspect of the layout. With a base cladded in MDF fluting, the tabletop features black Marquino marble. This glistening effect has also been echoed as a part of the false ceiling design. Devised with a bronze mirror finish, the radiance of this segment has been accentuated against pristine white roofing. Composed with ambient lighting, the experience that this scheme presents to every patron of the brand is brimmed with frames of the elegant pieces in an ingenious yet delicate setting.
The team resolved the limitations caused due to the restricted built space of the structure, by supplementing the inner walls with mirrors to solve a dual purpose. Not only does it amplifies the volume but also acts to increase the interaction of the garment pieces with the shoppers, thus escalating the quotient of user-friendliness. In totality, the firm accomplished in delivering a striking design that fulfills the client's expectations.