Foodhall Chanakya – Elevating The Gourmet Experience
October 11, 2018
Foodhall, a 7000 sq ft premium food superstore by Future Group at Delhi's latest upmarket retail destination, The Chanakya, is designed to seamlessly merge into DLF's high-end dining experience while offering end-consumers a sumptuous bouquet of world cuisines.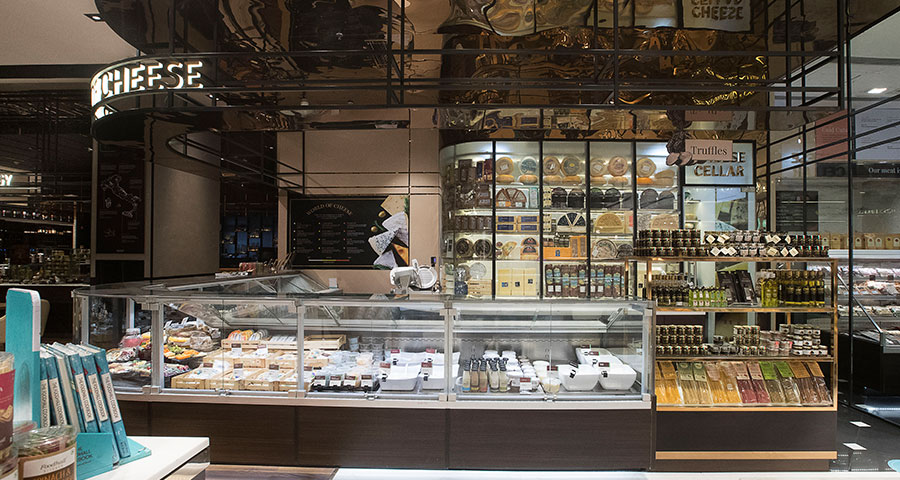 MKT is DLF Chanakya's most expansive dream come true for every food connoisseur in town. The space creates a symphony, triggering dynamism of a gourmet marketplace while balancing out with more relaxed areas of F&B from DLF.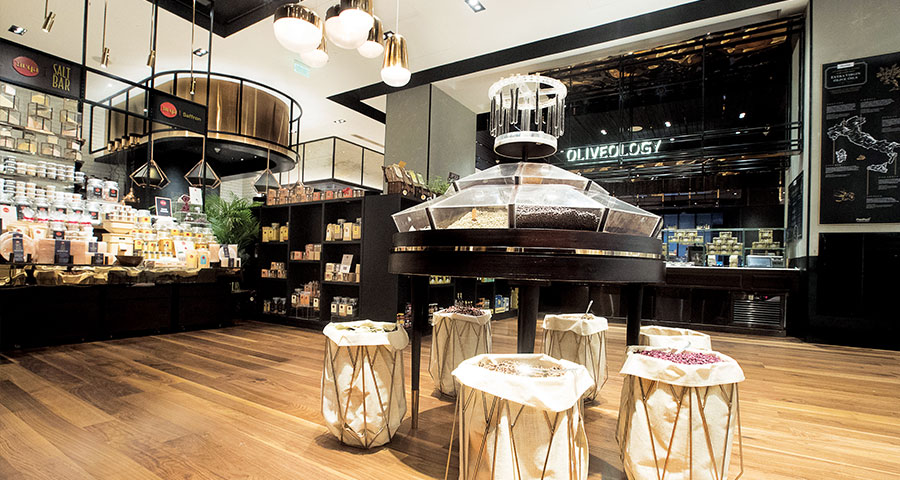 The idea behind Foodhall was to create a food superstore that exhibits luxury in a modern space well attuned to the destination. Future Group & DLF teams had to collaborate and converge on every element of the design output to create identities that are well in sync with each other. The outcome was a flawless play of experiential touchpoints to evoke multisensory response as desired outcome. The boundaries were created through differential ceiling, flooring treatment and variation in light lux levels to create a foodmarketplace feel as compared to the subtle ambience of dining areas at MKT. The principle concept was conceived with Paris-based design agency Malherbe.
The signatory blue glass wall with Foodhall branding gives a great sense of arrival as you approach from the elevators. The tonalities of a marketplace involving busyness, interactivity and indulgence is deliberately infused through standalone food islands for curated categories like bread/chocolate/candies/olives, coffee and cheese.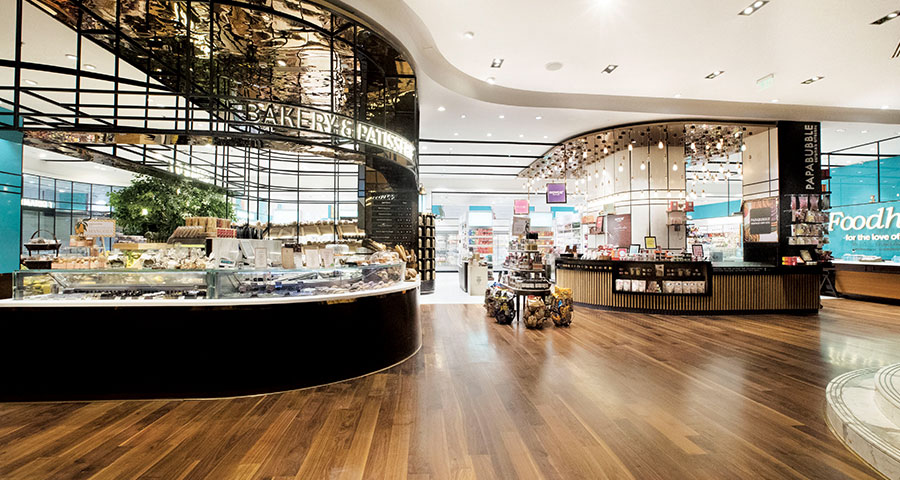 The experience design ignites the idea of "Live is fresh" for the end consumer and full visual story has been built around that. Whether it's artisanal chocolate making at Xocolate, live candy making corner from Papabubble, the inclusion of nut butter machine at the dry fruits section, the freshly-brewed coffee at the coffee cart or a lobster tank with live lobsters in non-veg section – Foodhall team leaves no stone unturned in crafting the 'experience'. The cheese cellar (with widest assortment of cheese from across the world), Oliveology (where they think & live olive in all forms) or the bakery section (artisan breads to vegan bakes & more) forms the laboratory of its sort in specific categories to intrigue the gourmet imagination further.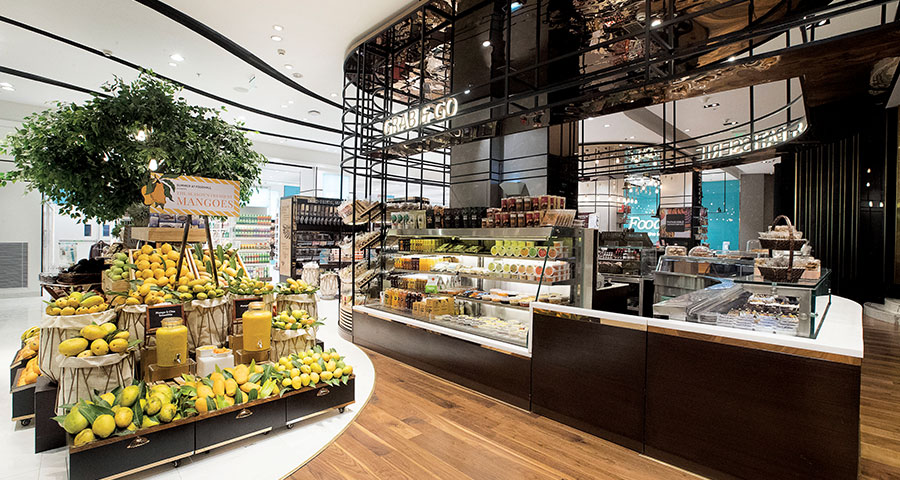 The physicality of the space is heightened through smart use of materials and their application. Rose gold plating on ceiling with black metal frames hanging from the ceilings demarcate most of the LIVE areas, while walnut veneer cladding with rose gold metal strip sit on top for each of the counters. Checkered black and white marble flooring makes the non-veg section and cheese room visually separate from rest of the live sections. The bespoke treatment is taken to another level with a tree installed at the fruit and vegetable section to render the fresh and natural feel.
From the interplay of varied smells (bakery counter) to the use of jute bags to bring in the market feel to a chef-enabled sampling counter to touch and feel the products… the ambience creates an indelible experience to remember for a long time.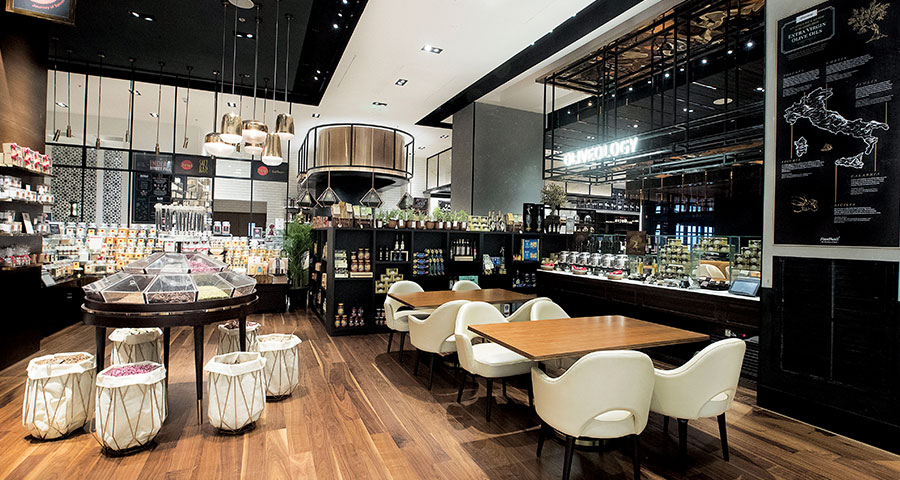 Vishal Kapoor, Chief Design Officer, Future Group
Foodhall Chanakya is a project that combined business, design and consumers seamlessly. Occupying approx. 7000 sq ft within DLF's eating and drinking premises, our idea was to turn every corner into a holistic experience of touch, feel, eat and drink.
Design Consultancy: Malherbe, Paris
Interior Work: Pioneer Techno Ventures Pvt Ltd, Delhi
Fixture: Mingbo, China and Renam, Mumbai
Lighting: Oktalite, Germany
Refrigeration Equipment: Arneg, Italy
Flooring: Bellacasa, Mumbai
Decorative Lights: Light Area
MEP: Integrated Services
Photographs: Namisha Raj