Godrej announces new integrated campaign
By VJ Media Bureau | Vjmedia Works | 2 | March 25, 2013
Godrej launches'Ideas that Make Life Brighter' integrated marketing campaign to strengthen emotional appeal and consumer connect.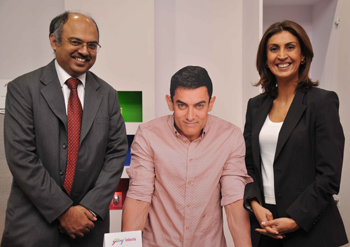 The Godrej Group launched an integrated campaign of'Ideas that Make Life Brighter/ Har Idea Se Zindagi Muskuraye' which is focused on enhancing the brand's emotive appeal. The press conference which took place in Mumbai saw the opening speech by Tanya Dubash, Executive Director and Chief Brand Officer, Godrej Group, giving glimpse and journey of Godrej brand in every day lives. Speaking on the evolution of the Godrej brand, Tanya Dubash stated, "Over the last five years we have walked on the exciting journey of managing the Godrej brand as an invaluable strategic asset. This journey has been marked by the creation of a more contemporary entity that has created an even stronger connect with the 500 million Indians who use a Godrej product or service everyday. Further, our commitment to brighter living has been ingrained in Godrej culture leading to breakthrough products and services offered by the group that have delighted consumers owing to their performance, usage experience and design aesthetics. 'Ideas that make life brighter', is essentially our showcase of brighter living and it is through this integrated campaign that we aim to communicate the ethos of our group. It is our belief that this campaign will harness the strength of the masterbrand through leveraging the diverse innovations across the Group and presenting them in a very engaging manner".
Shireesh Joshi, Head-Strategic Marketing, Godrej Group, unveiled he TVC ad featuring Amir Khan to the audience while sharing that The Godrej group has roped in Amir Khan as their brand ambassador. Shireesh Joshi, Head-Strategic Marketing, Godrej Group said "Given the Godrej Group's wide portfolio of offerings that covers everything from personal care to property and microwaves to moulded furniture, nearly 70% of a modern home can be furnished with Godrej products. The new chapter of our brand journey aims to bring to light this culture of innovation that has been intrinsic to the group. With this new campaign-'Ideas that make life brighter' and the iconic Aamir as our group-wide brand ambassador, we are certain that consumers will see the width and scale with which we fulfill our brand promise of brighter living."
Speaking on the retail strategy, Shireesh Joshi, Head-Strategic Marketing, Godrej Group says that they will focus on - reflection, reminder and connect. The communication will reflect the commercial, with additional or complimentary information in POP communication. Along with he also added that they will focus on visual elements to connect with consumers.