LeapPad Explorer - Techy toy for GenX
By Daya Kingston | March 21, 2013
Unlike the other brand FSU's; the unit showcases only one LeapPad Explorer toy with a simple demonstration video playing in loop.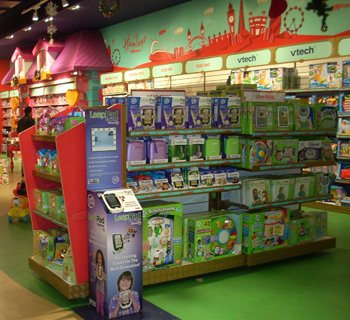 'LeapPad Explorer', winner of the Prestigious "Toy of the Year 2012" and "Lifestyle Toy of the Year" at British Toy Industry Awards is brought to India by My Baby Excel, a premium toy brand holding licenses of various international brands.
LeapPad Explorer's visibility in Indian stores is a real eye- candy, where the sleek display is designed by My Baby Excels while POP designers Jain Creations executed the solution. A real 7" digital screen is fused with the unit made of corrugated Sunpack wherein demonstration videos play in loop. Having a dimension of W x H x D: 12'' x 60'' x 12'', this display sends out the right message to the end consumers without cluttering the space in the stores and at the same time maintains the premium look. The brand communication'The learning Tablet For The Next Generation' is effectively communicated with the customers. The Demo unit gives hands on experience of the product and its offering.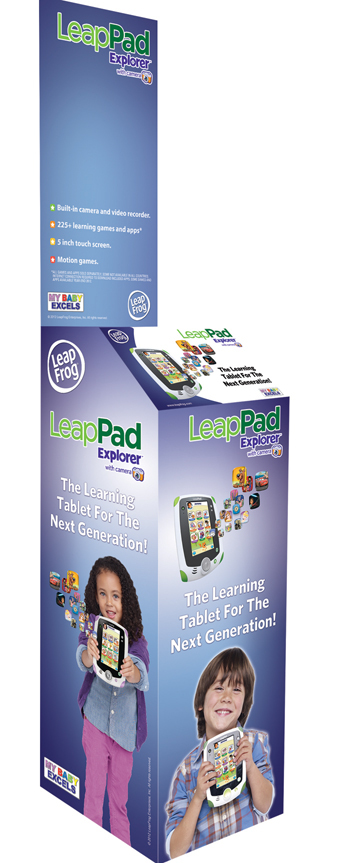 According to Mustafa Kapasi, COO, My Baby Excels, transportation of the unit was the biggest challenge. "We wanted to ensure that the unit reached all the locations (i.e. 250 locations across the country) intact and at the right time since the product had to reach the stores before the festive seasons kicked off. Moreover, we had to take more cautionary measures for LCD screens and dispensers to avoid any kind of damages and we are happy to pull it off successfully," he added. The Toy that received laurels in West, is now a big hit among Indian children proving that the only way to succeed in selling hi-technology entities is through product demonstration. The entire marketing activity of My Baby Excels has resulted in a very positive outcome.
LeapPad Explorer is developed by California based LeapFrog Enterprises that designs, develops, and markets technology based learning products and related content for the education of infant through grade school children.