Oriental mysticism comes alive at Chowman
By Nabamita Chatterjee | Vjmedia Works | March 12, 2014
Ancient Chinese culture combined with Buddhist spiritualism welcomes you as you step into the new outlet of Chowman, a small format fine dining chain in Kolkata.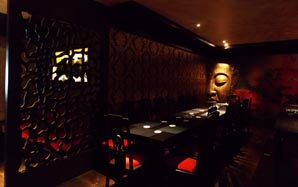 Chowman, a fine dining Chinese restaurant chain in Kolkata, opened its new outlet recently at Salt Lake in the city. Spread over 3,400 sq.ft, the 75 seater restaurant located near the Swimming Pool bus stop is the latest addition to the Chowman chain, which already has four outlets in different locations of the city.
The new restaurant, like the other Chowman outlets, follows the signature décor of Silent Buddha, that is iconic of the brand. The elegant red and black colour scheme surrounded by low lighting along with the bronze Buddha statues, the Chinese chanting scriptures engraved on the wall, the burnished chopsticks and the huge bronze bell together add to the aura of Oriental culture and the spirituality that it stands for. All the murals as well as the cutlery and crockery have been handpicked especially from China & Thailand. The aim of the food chain is to make Chowman, the hallmark of Oriental cuisine in Kolkata while offering world-class cuisine.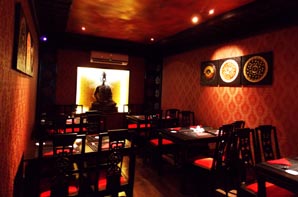 The interesting use of props on the walls like the one representing the'Cycle of life' or that of Chinese pottery or the statues of meditating Buddha all add to the feel of tranquility meant to soothes the nerves. The lighting arrangement has played a vital role in creating the right ambience and a space that is private and cozy. A special team from Singapore was assigned by Chowman to provide the guidelines as a regulated lighting design strategy has been adopted for creating the whole environment.
Debaditya Chaudhury, Managing Director, Chowman Chain of Restaurants who also conceptualized the project, says talking about it,"Chowman is set up exclusively to give each visitor a fine dining experience and the ambience is created with personally handpicked decor from the markets of China and Hong Kong. We have a set of specialized interior designers from Mumbai who did the layout and execution work for us. From the moment you enter the restaurant, the Chinese experience begins with hand crafted sculptures, exquisitely carved walls by craftsmen flown in from China, warm lighting with elegant red and black interiors. All the essential ingredients- from sauces to crockery and cutlery have been imported from Thailand & China. Chowman presents a hallmark of true and authentic Chinese cuisine and the menu feature dishes which pay homage to the various provinces of China. We have received so much of love from all our customers, it has been a humbling experience and now on popular demand, we have opened our doors in Salt Lake for its residents. This outlet is especially close to my heart as it is our chance to take Chowman a step further. Due to its strategic location we aim to do home delivery service from this outlet which will help us to cater to the entire Salt Lake city and adjacent areas like Rajarhat and Baguihati. This new outlet will serve all the signature dishes of Chowman like Chilli Mountain Lobster, Schezwan Orange roasted Pork, Kung Pao Chicken and Mixed Thai Style Noodles. The dishes are especially designed by master-chefs keeping in mind the palette of Kolkatans."
While speaking about taking this concept further in the city, Debaditya Chaudhury shares, "We plan to open outlets in Shyambazar, Behala and Patuli very soon this year to be able to make our food accessible from every corner of the city. Apart from Kolkata, we will also take the brand national with the opening of outlets in Mumbai, Delhi and Bangalore by 2015."