Pantaloons' 'Holiday Shopping Carnival' redefines brand experience
By Nabamita Chatterjee | Vjmedia Works | May 29, 2013
The brand's stores in various malls saw a significant rise in customer walk-ins and conversions during the on-ground promotional activity this summer making holiday shopping a memorable one.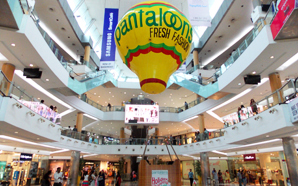 Today with the latest buying trend in the retail industry which is ever-changing due to various factors like the growing economy, fashion developments, and such, the brands need to evolve and innovate to keep up with the customers' expectations every day. Pantaloons, in order to uplift the shopping experience, launched this summer a cluster of shopper connective initiatives as a part of their 'Holiday Shopping Carnival' programme. The concept was integrated with hot air balloon installation carried out in three destinations - South City Mall and Diamond Plaza (Kolkata) and R City Mall (Mumbai) while the Beachside set-up was done in major stores of Kolkata, Mumbai, New Delhi, Bangalore, Hyderabad, Chennai, Ahmedabad & Pune complimented with similar theme window panel and entrance cluster display done across all the 70 stores of the brand.
Collective heads from Pantaloons activation agency was roped in to manage the design and execution of the installations at the retail outlets. The concepts were integrated with their on-going promotional campaign 'Holiday Shopping Carnival', where customers enjoyed great offers including opportunities to win international and domestic travel vouchers, holidays at resorts across the country, etc. on shopping at Pantaloons. Since the hot air balloon display was done in the mall atrium, it was open to all customers present there to experience a unique opportunity being inside a basket hooked to a hot air balloon & get them clicked and keep it as a fun-filled memory. Customers were also given instant prints of the photographs clicked with their loved ones.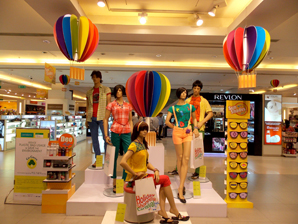 Pantaloons with over one and a half decade of existence in fashion retail believes in creating an experience at the retail store. The beachside set up and entrance cluster display inside the outlets show the efforts to provide the customers with a premium brand experience which the brand believes does lead to better brand perception. This also helped Pantaloons to position themselves differently in the competitive market. The average and existing potential customers of Pantaloons who over the years has progressed were able to relate and identify with such an experience led activity of the brand.
Pantaloons shared that the initial response from the activity has been overwhelming and has led into customer satisfaction being a very memorable, amazing and a real life like experience. It was a part of their plan to amplify it through the brand's own social media platforms like Facebook and Twitter, but owing to the response they are planning to replicate the same in some more cities in the very near future.
Photographs: Madhumita Chatterjee