Red Bull- Flies at retail
By Fairy Dharawat | February 10, 2013
The brand collaborated with Classic Retail (resync) to promote their flying team"œThe Flying Bulls" at retail by creating an island display.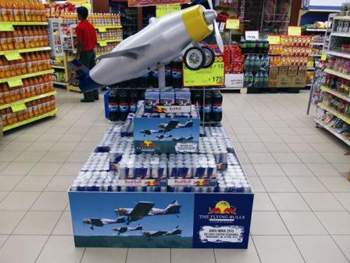 Red Bull along with Classic Retail (resync)- the fabricating team, replicated a plane ready to take-off in the form of an island display to promote their aerobatics team'The Flying Bulls' who took part in the aero show held at Bangalore in February 2013.
According to the Red Bull team, the brand wanted to communicate at retail that their team'The Flying Bulls' was participating in the aero show by creating a plane looking similar to the flying bulls plane ready to take-off.
The unit has plane standing on a pole tilted up, replicating as if it is getting ready to take-off. While in the bottom, a podium was created for the products to display giving maximum visibility. The island unit was put up in five stores in Bangalore including one in Auchan and one in HyperCity. While the colour for the plane was decided according to the actual plane, the island display had a podium of size of 4ft by 4ft which gave ample space for stocking products.
Amit Virdhe, Manager-Design Services, Classic Retail (resync), said that, "The objective was to promote Red Bull aero show event by attracting consumer attention & drive sales through this unit." He further added that they wanted to design something in sync with the event and having space for stacking multiple products providing maximum visibility for the brand.
The display was created by using different combination of materials along with eye catchy graphics and rotating front propellers to attract consumers. The chosen materials MDF and flexiply also enhanced the overall look to create brand visibility.
The slick design and execution by Red Bull and Classic Retail (resync) was not only eye catching but communicated the message of the aero show quite clearly, the unit also garnered appreciation from shoppers of all ages for its universal appeal.