Simon Carter
By Satarupa Chakraborty | October 17, 2017
Interestingly, Simon Carter's first pilot store in India was not about replicating any "design concept". Spanning across 930 sq ft in Chennai, the store was hugely inspired by the designer's quirky sense of humour and sophistication of an iconic British brand. Conceptualised and developed entirely by Bangalore-based 4 Dimensions Retail Design India and team ABRFL (Aditya Birla Fashion and Retail Ltd).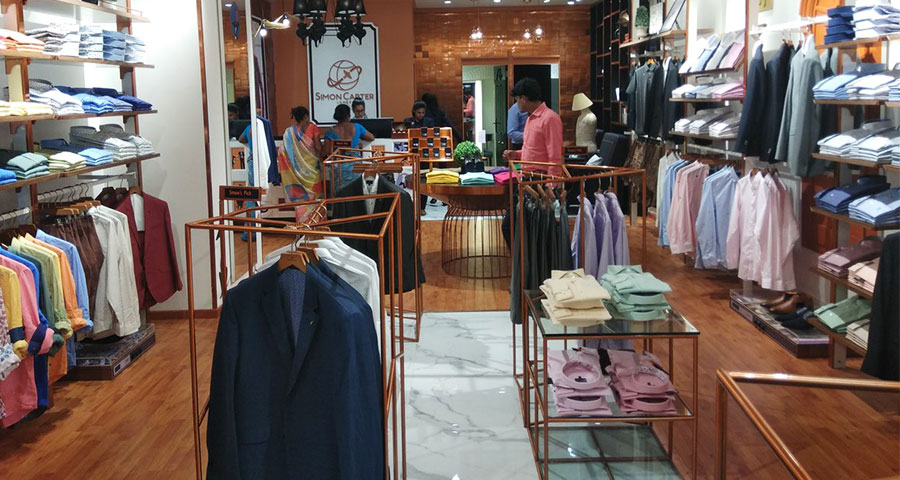 The Quirky Mr Carter
Simon Carter is an iconic London based British Designer who started off to be known as 'the king of cufflinks' and then grew into crafting a full range of men's formal and casual clothing. His unusual design sense is infused with his honest, humourous and quirky take on the world around him. Interestingly, Simon Carter's first and pilot store in India, spanning across 930 sq ft in Chennai, was not about replicating any "design concept". The design sensibilities come from the designer's acute ability to look at the world with the freshness of a child using his vast and varied experience. His mixed sense of humour and quirky musings interpreted in his design sensibilities has been an inspiring influence on the 'Art of Dandy Dressing'.
Of Stories & More
The store offers a unique experience proposition of the unexpected in the interior, visual merchandising, communication and customer engagement. The customer journey is created and staged in four main zones- 'The Announcer' (store front), 'The Ante Room' (the reconfigurable window and entrance), 'The Dandy Parlour' (the merchandising area) and 'My Cuppa Tea' (the trial & service lounge).
The 'Announcer', the asymmetric store front was meant to give a quick gist of the brand story, which is created from a combination of glass, printed graphics and halo lit copper letters. The 'Ante Room' helps continue this story in reconfigurable store windows. Pivoted frames help reconfigure the windows to stage different musings of the brand.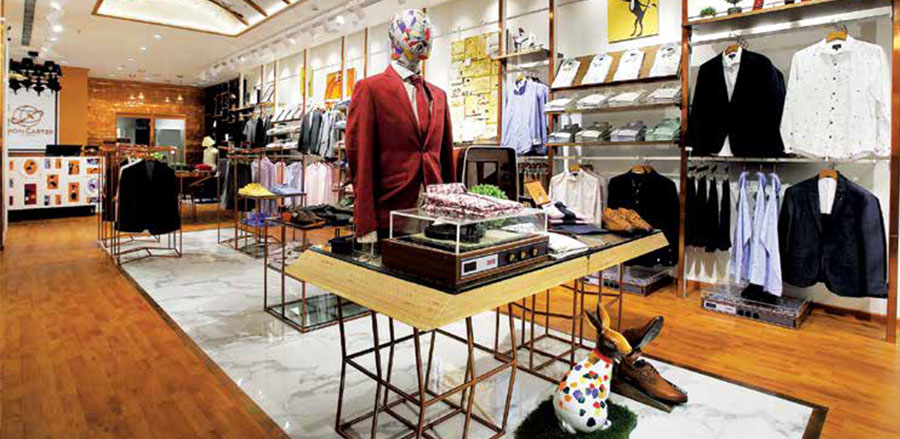 The 'Dandy Parlour' presents the differentlycurated fashion collection ranging between casuals, semi-formals, formals and occasion wear. The 'My Cuppa tea' area, that houses the service areas like the lounge, the trial and the billing, is designed to render a signature experience of Simon Carter using quirky design sensibilities. The 'upside down' trial rooms and the copper panelclad walls add an element of surprise in the customer journey.
The Quirky Elements
Decorative lighting like a brass horn chandelier, black fabric lamp shades cluster, bird lights and brass grill lights add significant quirky sophisticated art to the brand story.
Gervaise, Simon's imaginary pet dog which has fun persona of a British gentleman and a dandy, is involved in every 'dialogue' in the store experience in 3D forms, silhouettes and comic strips. Elements of bygone era like a vintage radio, walking sticks, turntables and graphics wrapped mannequins serve as fixtures to complement style statements and surprise customers in the store experience journey.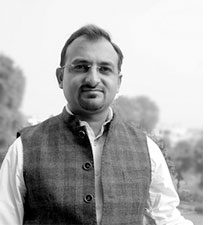 Harjee Gandhi, Director, HG Graphics
Doing Simon Carter props was an exciting experience as it involved a lot of 3d printing process.3D printing creates solid parts by building up objects one layer at a time. What's special about it is that it is able to replicate a design most quickly, accurately and closest to your imagination. We created Gervaise, a long neck dog along with a colourful rabbit, an adorable Puppy and many more such items used as props in the store. From 3D sculpting to final paint touch ups, all was done under one roof and in less than 15 days.
Nagaraja R, Founder & Director Design, 4 Dimensions
The store's concept and visual merchandising design challenge was to bring to life the design ethos and imagination of Simon Carter in a sophisticated British quirk character filled with surprises. Different materials and forms, that generally don't go together, were combined to create a unique signature for Simon Carter. We are happy to have successfully created this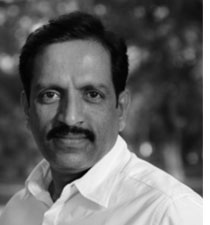 'made-in-India' concept for this iconic British Designer Brand.
Store design: 4 Dimensions Retail Design India Pvt Ltd
VM, Graphics and Communication Design: 4 Dimensions Retail Design India Pvt Ltd
Project Management Consultancy: 4 Dimensions Retail Design India Pvt Ltd
Lighting: Hybec Lighting, India
Decorative Lighting: Kaleido Store, Mumbai
Shop Fixtures & Furniture: Space Design
Shop Build Contractor: N S Interiors
Props: HG Graphics and Creative Concepts
Mannequins & Hangers: Clone Mannequins