Ted Baker: Charting the bespoke route globally
By Satarupa Chakraborty | March 01, 2019
Shunning the cookie-cutter approach, British fashion retail brand Ted Baker always has something 'in store', when it comes to retaining glocal design elements. VM&RD tracks the brand's inspiration trajectory for their design of the India stores.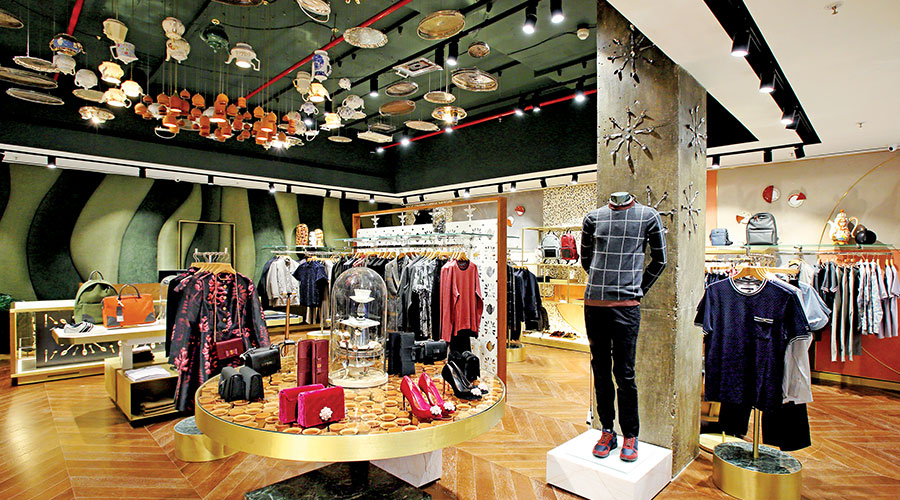 Ted Baker, one of the progressive fashion-forward luxury brands, opened their first store in London back in 1988. The brand has consistently carried forward its bespoke store design language, while weaving in generous elements of humour, quirk and theatre.
A look at Teds' global journey shows its focus on integrating glocal elements and ethos. The brand went fully Dutch for its Netherlands store to showcase the country's long history as a storehouse of art, while the Bangkok store is a tribute to the camera and its inner workings. The Kuwait city store pays homage to the British film industry, while the Beirut store design showcases Lebanon's Pheonician traditions of alphabet and typography. Japan, being a frontrunner in the research and development of robots, has a store where Ted's own tailoring robots bring alive his imitable style.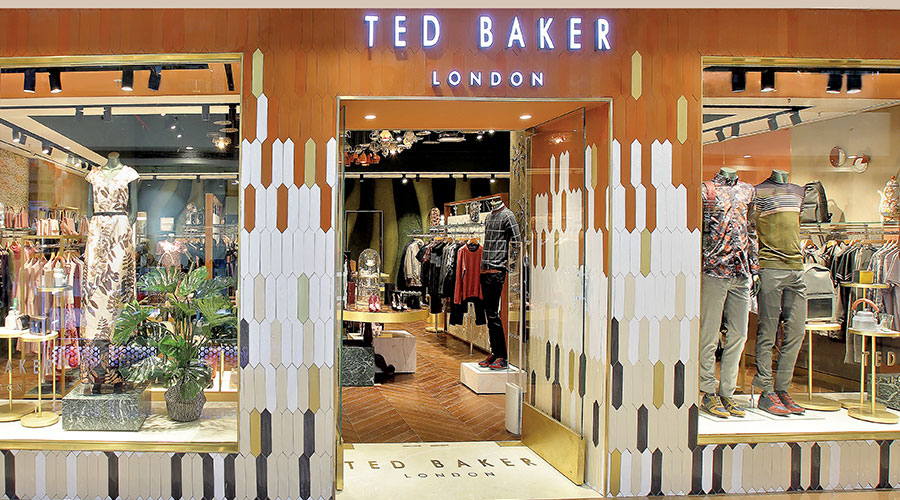 Having created such versatile store design IDs in significant parts of Europe, Asia, Canada, South Africa and Middle East, Ted Baker arrived in India last year in partnership with Aditya Birla Fashion & Retail (ABFRL). Currently, there are three stores, two in the capital city and one in the NCR. Here again we see Ted Baker's signature style of fusing together the quirky and the heritage elements.
Here's a look at the Ted Baker India stores.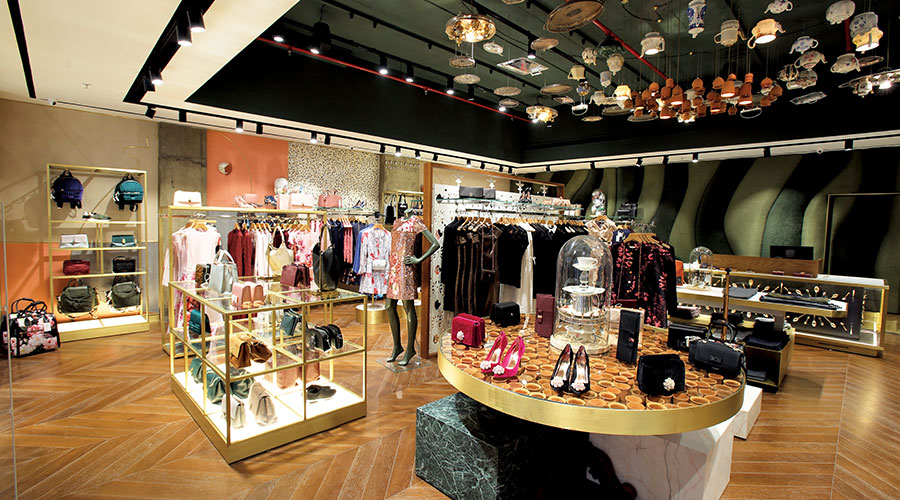 The Chankya Store, Delhi
Concept: Tribute to the Crown
Execution: Carrying on the colonial legacy, the British brand's debutant store draw inspiration from diamonds— iconic of the Indo British relationship. A diamond formation timber floor welcomes guests to the space, whilst the ornate ceiling features brushed and polished brass three-dimensional diamond shaped panels. Fitting rooms have intricate printed wallpaper and are upholstered in regal purple with opulent gold trims and jewel pendant wall hangings. Props reminiscent of British monarchy are displayed in ornate frames throughout the store. Red oak timber-topped tables with gold stylized legs convey a majestic image, while the remaining pieces draw inspiration from royal jewellery, enhancing the opulent feel of the store and creating a jewel-box backdrop for Ted's new collections.
The rich jewel tones showcased against traditional and locally-sourced Indian textiles and embellishment, enhance the thoroughly contemporary Indian take.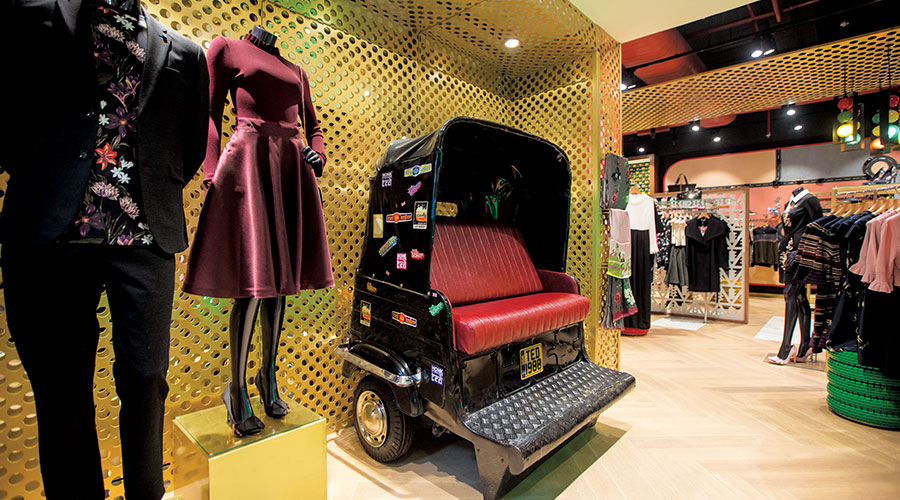 The Select Citywalk store, Delhi
Concept: Indian Chai Vs English Tea
Execution: In this store, the usage of ceramics & earthen ware and their seamless blend are highly visible. Focal wall of the store is a replication of the tea estate, which brings alive the concept. Kettles, brass trays, typical earthen mugs, which are typically used for consuming tea in India are strewn around, not only as loose props but also as prominent features to adorn the ceiling, nesting tables and window schemes.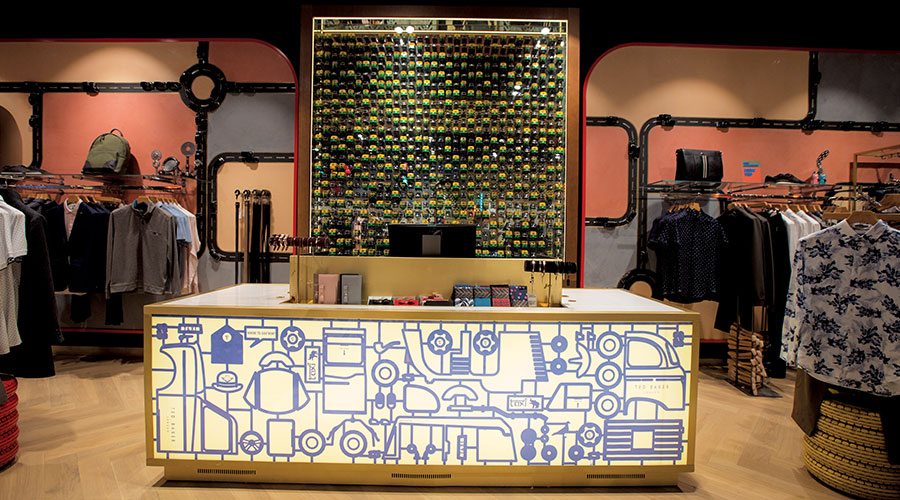 Ambience Store, Gurgaon
Concept: London Taxis meet Indian Tuktuks
Execution: This concept draws inspiration from the iconic vehicles of both India and Britain. This store is made vibrant and playful using interesting material choices.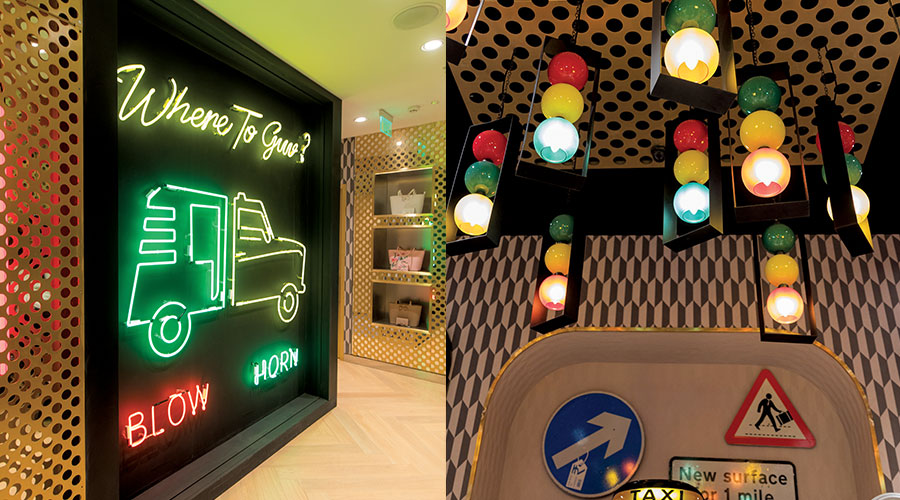 Chanchal Jaising and Shashank Dalal, International Business Team, ABFRL:
"We have worked with three priorities:
• Constant evolution and development of each aspect of our design to forge our own identity, not follow trends
• Combination & integration of online & existing retail (avoiding any buzzwords)
• Maintaining the high standards we have set and not dilute what makes us special – focus on the USP of each location whilst remaining bespoke and flexible.
The global design team of Ted Baker has accustomed themselves to the Indian way of working. They understand the concerns / glitches raised by our vendors and help solve them realistically."
Design : ABFRL & Ted Baker International team
Fixtures : Elemental Fixtures
Lighting : Ikio