This Amritsar store brings alive pre-partition Punjab…
By Retail4Growth Bureau | May 03, 2023
Amritsar based clothing store Minny Sandhu, designed by New Delhi based design studio Bora Da, is a spatial blend between nostalgia and the contemporary ethos, while evoking Punjab's rich past.
Nostalgia often makes for an engaging theme as it resonates easily with the audience/end customer. Amritsar based clothing store Minny Sandhu, designed by New Delhi based design studio Bora Da, is all about being reminiscent of pre-partition Punjab. "The design of the store is more of a line between 'nostalgia' and 'moving on with time'. It is derived from Punjab's undivided plan, the territory which is sentimentally close to every Punjabi, whose heart still yearns for the undivided era. On a historic note, this space makes one take a trip down memory lane," says the design team.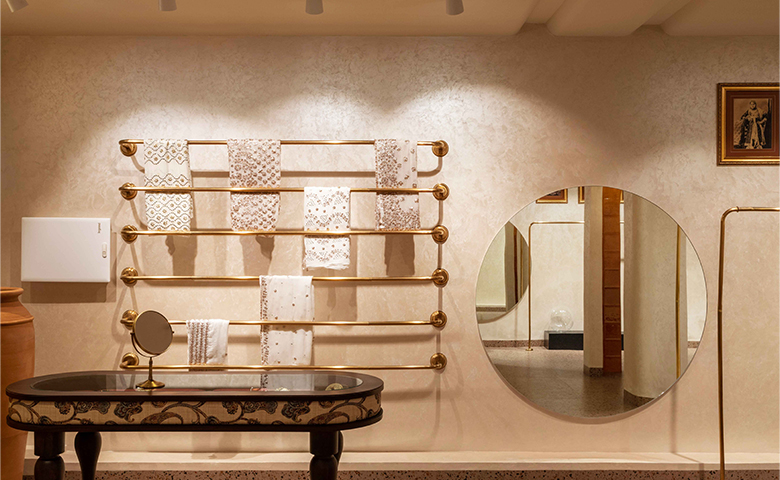 Everything in the store, including the furniture, is set according to the old havelis of Punjab to reflect the modest lifestyle of the people. Every texture and color used is meant to resemble the old-world charm of the traditional havelis. Indeed, the mosaic patterned tiles, rustic walls, and a soft beam of yellow lights are all meant to evoke the old havelis of Punjab
The store has a longitudinal plan which is divided into four sections; with jewellery display tables in the first section, a central standout feature in the second section, a cash counter in the third and the service areas, a trial room and a lounge in the fourth.
The brand's clothing is displayed in the first three sections along the store's walls, while the muted rustic tone of the interiors greets every customer drawing them into the distinct ambience of the havelis.
"The store is designed to be as minimalistic and functional as possible. Hanging rods are used to display clothes and are brushed in gold color, while display tables are set up that double as jewellery displays. Set in wooden shades and textures, the furnishings have been adorned with fabrics of traditional textile patterns, as a homage to the legacy of Indian craftsmanship," explains the studio statement.
An open room in the center with arches on all four sides is strongly reminiscent of the predominant Indian palatial architecture. To elevate the nostalgic quotient, the walls across have been adorned with historic black and white photographs on either side commemorating the gracious royal times. A traditionally appropriate chandelier, placed in the center of this feature, ties the whole element in a neat and rather opulent bow and shares the studio.
Large earthen pots have been used to accessorize this area, further bringing alive rural Punjab, while the strategically placed mirrors not only create the illusion of a larger expanse but also offer evocative reflections of the old Punjab imagery.
Quick Facts
Location: Amritsar, Punjab
Principle Designers: Udaai Batra, Navneet Kaur
Completion: 2023
Photography Credits: Suryan//Dang
Text Credits: Pranjali Karnik