This Cincinnati airport store welcomes the city's past & future
By Retail4Growth Bureau | June 23, 2023
Designed by JGA, the Seven Hills Essentials store at the Cincinnati/Northern Kentucky International Airport is a tribute to the city's historic past and its future.
American city Cincinnati is also known as "The City of Seven Hills" and 'Seven Hills Essentials' at the Cincinnati/Northern Kentucky International Airport is a tribute to the city's nickname.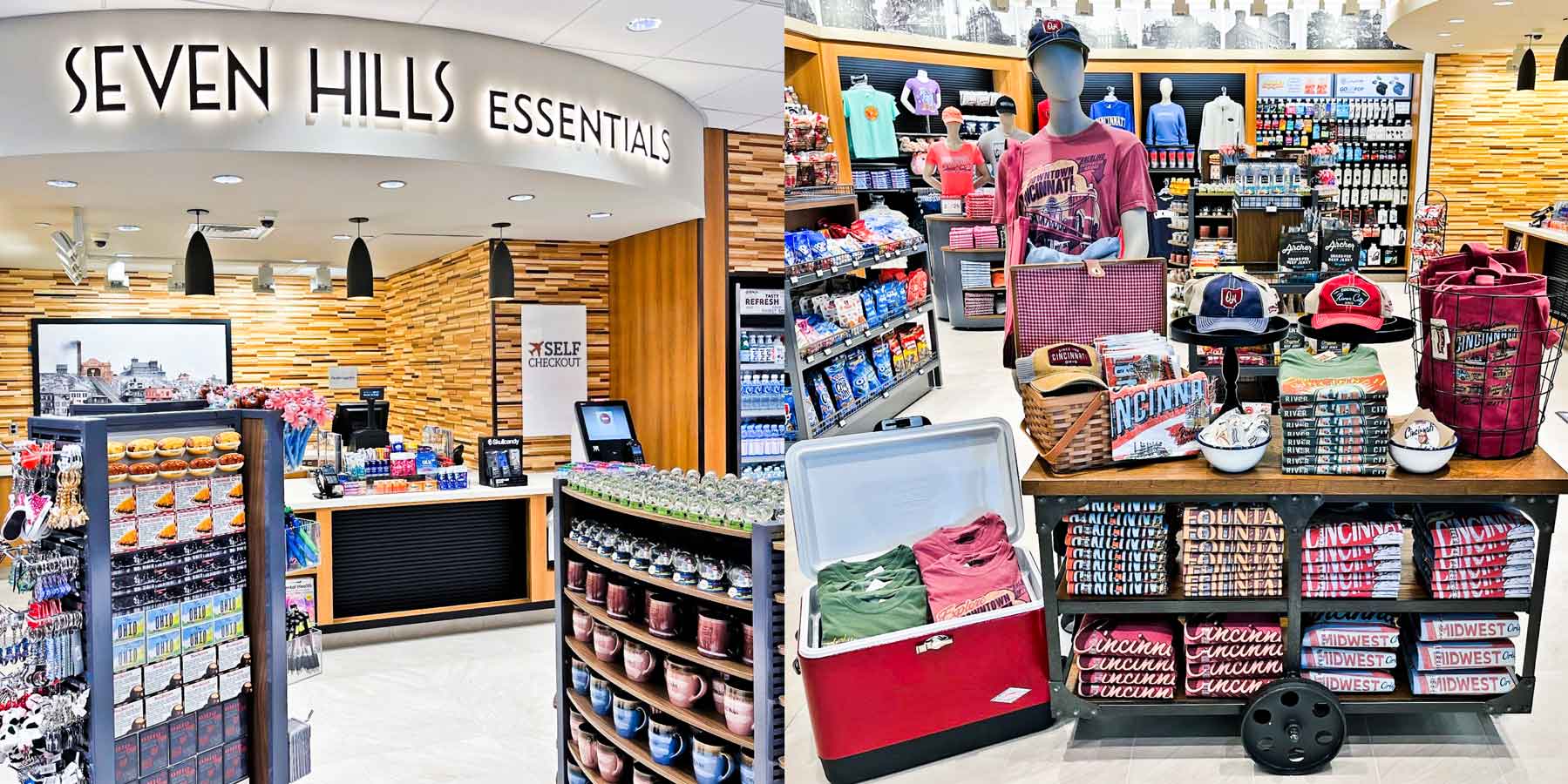 Designed by JGA, the store is a convergence of historic detailing and contemporary sensibility. "Honoring its namesake, Seven Hills Essentials is built upon Cincinnati's rich industrial heritage. From the manufacturing of engines and steamboats to the refining of iron ore, Cincinnati and Seven Hills Essentials perfectly blend the gritty and raw of yesteryear with the modern, clean, and user-friendly space that travelers have come to expect," says JGA.
The industrial feel is rendered through layers of texture and materials including concrete, rich wood tones, warm neutral colors, burnished copper, and charcoal accents. "The wood-clad interior is clean and contemporary, yet layered and dimensional, a design which can be found throughout the interior in its custom millwork displays, curved cash wrap, and product display carts that look as though they were plucked straight from a turn of the century factory," shares JGA.
The design narrative continues right into the store in different ways. Large glass window offering a brief but intriguing glimpse into the space, smooth, richly colored wood and accenting gray bulk heads, and other elements manage to create a smooth play of transition from outside to the interior space.
As JGA explains, the large illuminated copper colured sculptural metal sign casts a glow onto the woodwork behind it which in turn adds texture and depth. A highlight of the exterior is the large black and white photo that depicts what was once a staple of the Cincinnati skyline, the Price Hill Trolly Lift.
The new Seven Hills Essentials has essentially been designed to convey its positioning: A retail space that honors the city's past while welcoming the future and serving the needs of travellers.