Zimson's new Bangalore store: Airy, inclusive & elegant
By Retail4Growth Bureau | August 31, 2023
Designed by FRDC, the new Zimson store at Jayanagar in Bangalore shows how renovation of an existing store space, when done right, can add new flavour to the brand personality and enhance its spatial experience.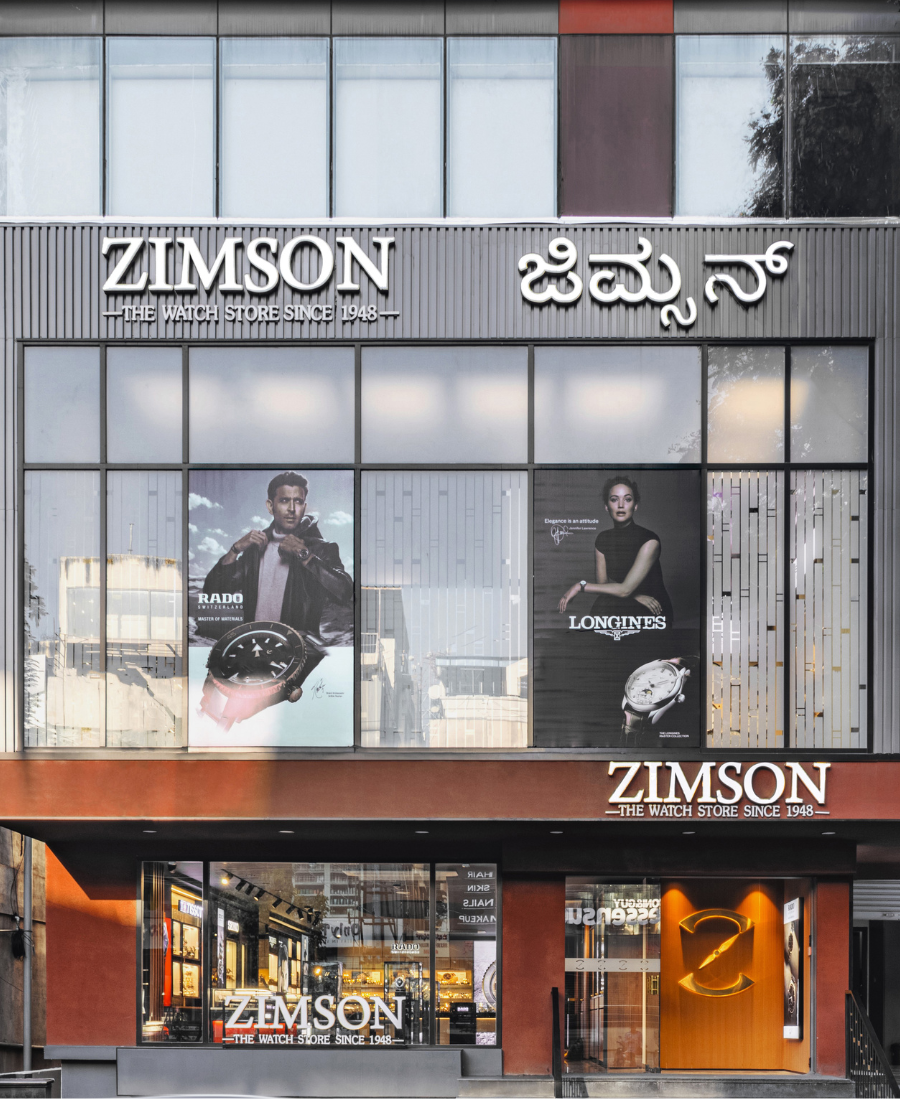 Designing a retail environment involves the interplay of many aspects - spatial character, brand objectives, story telling and target customer profile, among other things. When retail brand Zimson, which houses renowned international watch brands across its stores in South India, wanted to create a new store experience at Jayanagar, Bangalore, the idea was to draw a fine balance between luxury and aspiration. Bangalore based FRDC was tasked with designing a space that ticked off all the stated objectives. They created an experiential store design to house premium & luxury watches for Zimson on a busy street lined with many brand stores.
Zimson, the trusted retailer of wrist watches since 1948, needed a premium but inclusive space that welcomed a wide spectrum of audience. FRDC went at it while doing full justice to the space, location and target shopper profiles. This was done, as the team informs, by taking a step back,allowing air, natural light, spatial volume and even the neighbourhood to take the lead in design, even as materials, fixtures, technology and other retail design elements completed the experience.
As Sanjay Agarwal, Co-Founder & MD, FRDC, says, while talking about the project, "The Zimson store at Jayanagar, Bangalore was designed to 'influence the influentials' sans intimidation that appealed to those aspiring also, where customers and visitors can have a sense of authority while browsing various luxury brands on offer. The store design is a result of interplay of architectural & interior design with the primary objective of creating a 'purposeful' environment for this category of retail."
Facade
In order to stand out in a cluttered space, amplified brand presence was needed, and hence a vibrant facade. "Mimicking its design language of the previously built flagship at Indiranagar, this store front follows the linear and contemporary look and feel. With good visibility of the store interior across two levels, the façade exudes an elegant and refined yet bold look," says FRDC.
Layout & ambience
Inclusivity being a key required attribute, effort was made to appeal to different market segments - from sub-premium and premium to luxury watches. Spread across two levels, the space was crafted to visually connect both levels. While the ground level houses luxury watch brands, the upper level houses premium and fashion range.
The zones are imbibed with a vibe that matches the merchandise category the store houses. Thus the luxury watch zone exudes a calm, sophisticated and boutique-like vibe, while the premium & fashion segment sports a more cheerful and youthful look with denser placement and more collections.
The gallery-like display and zoning welcomes its customers to walk around and self-browse more collections. It is also a space that enables engagements and interactions with lounge set-ups and an acoustic design that encourages customers to discuss in private. Every effort was also taken to move as far away as possible from a department store ambience. Thus the cash counter has been designed to avoid queuing, while the service centreoffers plenty of seating areas.
Wow elements
An oval cut-out in the center connecting both levels lends an interesting edge to the space, with the double height adding a wow factor and letting customers know that there is more to the store.
Other key design elements include the play of vertical transition and heights, lights, staircases and railings. Seen from the top, the elevated staircases appear as installations. Also, as FRDC informs, the lighting and chandelier above the double height cut-out sets a premium look to the store. As against this, the upper level harnesses great amount of daylight, creating a very fresh vibe and being in sync with the street outside.
Materials
Carefully chosen materials define the experiential quotient of the space - whether it's the Italian marble and glass display cases that convey luxury, or the contemporary chandeliers, terrazzo floors and uber chic seating that express a refined, urban sensibility.
Design Challenges
The project came with its own architectural challenges, primarily because it involved renovating an old building and an existing store. "The design team overhauled the space to make it more bright, open and connected. For this they reconstructed the staircase, utilised top height of the floor and created the ceiling cut-out in the centre," shares FRDC.
The basic idea, as they point out, was to create a customer journey & movement that's natural, unhindered and exploratory. Well, they certainly seem to have met these objectives. The new store manages to capture the Zimson brand philosophy, while giving it a new flavour that matches the neighbourhood it sits in.
Design Associate: StoryStudio
Image Credit: 2023 Hansoga Photography | Jubin Johnson | @hansoga_photography