109°F:Raising the fashion quotient
By Nabamita Chatterjee | November 07, 2013
109°F, a well known apparel brand for women, has emerged with its own positioning and a style catering to the needs of the fashion conscious Indian style buffs and having a well networked retail presence throughout the country. VM&RD chats up with Rahul Mehta, Managing Director of 109°F to know the secret behind their success in this competitive retail market of the country.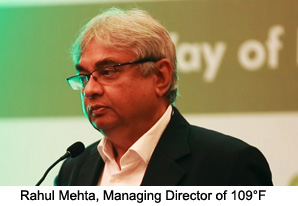 Could you share with us your journey so far, from the beginning to becoming awell recognized apparel retailing brand n the country.
The journey started in December 2006 with one store at the Atria Mall in Mumbai and now we have about 25 exclusive stores throughout India. We are also present in around 250 shop-in-shops and 200 MBO's. Fortunately we launched the brand at the right time when the demand for western wear was gradually picking up in the country. As we were already into exporting apparels,we knew Women's clothing, and being closely connected with the Domestic market for nearly 30 years with our other Brands and businesses, we had anticipated that retail was really going to be the future of India. Thus the right product, right pricing, and right timing combined to give us the kick-start, which we were able to nurture to grow the Brand to what it has become today.
What was the thought process behind naming the brand 109°F?
We considered many alternatives at the beginning which were proposed by our agency but we selected 109°F primarily because it sounded different, came off the tongue well, and seemed intriguing - perfect ingredients for maximum, faster, and better recall. Also, the letter F could be interpreted in many ways like'fashion','female'etc.109°Fahrenheit also implies a certain warmth, and'hot fashion trends' - attributes that the Brand stands for.
How challenging it is to carve out a niche especially in such a competitive apparels market?
It has been a very challenging effort from the very beginning. In India there is a tradition of following the trail blazed by an already successful niche brand.So whilst it may be easy to start a niche Brand, it is difficult to maintain one's niche. For example, when we started,there were hardly two Women's Western wear brands - and now may be there are more than 25 in the same market. More and more International Women's Apparel brands would also be entering the market. Thus, it has been a challenge for us to Niche that we have, and the challenge is only going to be more exiting in the coming years. There are several other crucial decisions we have to continually review and take afresh - the right Pricing, the right Distribution Channels, the right Communications Strategy, etc. I believe our success is due to the right decisions we have taken so far - but in the Fashion Industry so many decisions are right only till the next season. These have to be periodically reviewed and reexamined on a continuous basis.
How would you define your USP and value additions?
I feel that we are closest to international fashion trends in the country while having kept the Indian sensibilities in mind, which is our USP. There are many brands available but their salability is limited, either because they are'too' forward in their fashion statement, or are just not fashionable enough. I think 109°F has achieved that difficult balance, and hence its popularity.
Who are your targeted shoppers/consumers?
Our target audience mainly starts from the age group of 18 years and goes upto 30 years.
What does it take to capture and then retain this segment of consumer?
Constant innovation is the foremost requirement and it should be in sync with the latest fashion trends of the fashion market. For example, when we launched the Brand, aspects like heavy embellishment on the garments was the trend, but today fashion has changed a lot. Clean and straight lines with smart looks are in vogue now which we have also adapted in our Range.
In terms of inventing new things we have also observed that Indian customers do a lot of window shopping and thus they visit the stores far more frequently and expect to see something different each time they enter the outlet. Thus we have a huge range - probably the largest amongst our competitors, and yet, we have not lost our focus on Quality. Indian consumers are also very much value conscious and thus they need to be constantly reassured that the brand is worth buying and that is possible only if your quality is never compromised.Then your consumers get retained automatically.
Could you throw some light on your newly launched brand called Fusion Beats?
As the name suggests, it has been launched for consumers who still feel more comfortable wearing ethnic clothes, but want to venture in to some Western clothing. But after launching it just a year ago, we observed that our Brand was also appealing to the women who normally wear Western clothing, but are still proud of their Indian lineage, and who would like to have that Indian touch to their clothes. We are already available with this Brand in about 150 shop-in-shops & MBO's and are soon looking for space to unveil exclusive outlets for the brand.
Who designs your store?
We have our panel of Architects who create the master design for our retail space and once the location of the store is finalised, it is implemented accordingly as per the Brand's philosophy.
Where do you buy your store fixture and lighting fixture?
We have a set of nominated vendors from where we purchase as per the store design requirements and the work is carried on by the agencies whom we employ for that particular outlet.
Going further what are your plans in terms of expansion all over India? What has been your turnover in the last FY (mention the %)?

We have got major plans of expansion as we are growing at a pace of about 35% which we feel would move ahead to 40-50% in the very near future. Previously our growth was mainly fuelled by 2-3 large format stores, but now we are also focussing on EBO's and if you see how the number of exclusive outlets of 109° F has grown, it shows that in the last five years we had about 11 stores and during this financial year of 2012-13 we have opened about 14 more stores. We are hoping to touch Rs.500 crores in the next few years..
Today given the economic scenario, most retail outlets are losing money? How are you managing?
I believe the secret of our success is that we do not allow ego or emotions to get the better of business sense in our decision - making. We follow a very ruthless policy in terms of our stores. When we launch any new store, we give it 6-8 months and observe its performance. If we see that it is not making money, then we close it.
What is your take on the recent FDI Policy and international brands coming in?
There is no harm in it, and as an industry spokesperson I feel that the Indian retail industry has got good potential and can survive even if foreign brands come in.
Related Viewpoints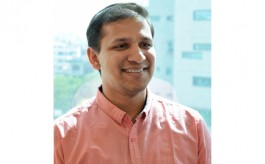 Executive Director, Madame
'Retail design solutions have to tell richer stories, create bolder experiences' : Akhil Jain, Executive Director, Madame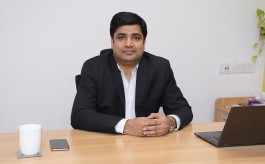 COO, V-Mart Retail Ltd
Small town India will spur organized retail growth : Vineet Jain, COO, V-Mart Retail Ltd