Acumen – Upbeat With Latest Trends
By VJ Media Bureau | August 22, 2018
Acumen offers concept design solutions that are known for its aesthetic value and functionality, understanding the nature and behaviour of consumers across geographic boundaries. It is associated with some of the largest companies in the retail industry. Point-Of-Purchase catches up with Dibash Moni Das Director, Acumen Marketing Solutions Pvt Ltd to find out more.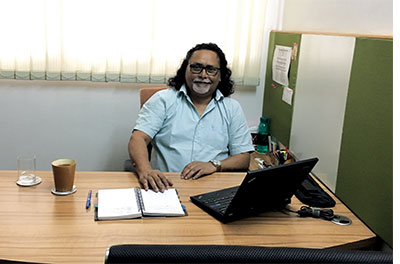 Tell us more about your POP solutions business, especially with the IT brands? What is your USP? tell us a little about the journey so far, and what made you opt for retail transformation projects?
I would like to mention here that we are beyond POP solutions. Acumen was launched in September 2006 as a BTL agency to deliver diversified marketing communications across the country and beyond. Along the way, we found our passion in the retail industry, and have been offering retail solutions for the last 11 years, predominantly in the IT Industry. From basic retail branding in MBOs to SIS in LFRs and moving on to exclusive stores for the doyens in the IT industry, we have come a long way and yet, a long way to go.
We have focused on creating relationships based on trust and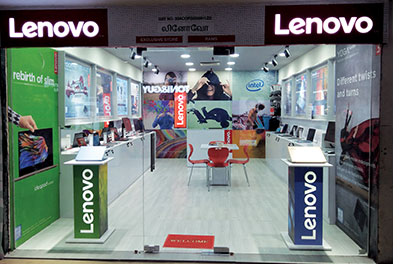 confidence. This I think is forged from not just the quintessential Quality and ROI, but predominantly from the transparency, flexibility and response systems offered to our clients.
We take up every new project as a challenge. The conversion of an idea to a basic design and eventually to the shop floor experience, beyond the expectations of our clients, is always a challenge.
How do you think the Indian POP industry is shaping up? And where does Acumen stand?
The POP industry is most definitely poised for growth in the future, with a number of technologies coming in and new innovative media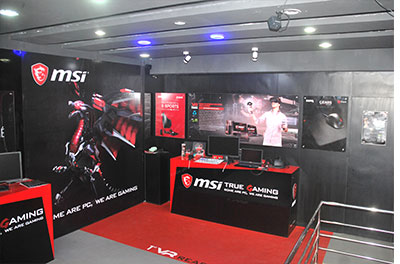 in the offers.
Acumen has from the time of inception thrived to remain upbeat with current market trends and requirements. Over the years, we had moved on from onsite manual fabrications of F&F to factory made modular F&Fs, flat packed for swifter shipment and easier assemblies on site, minimising TAT beyond expectations. Based on market demands and futuristic trends, we have also added metal and aluminium F&Fs along with various other innovative branding options to our services.
Is POP industry future ready for technological innovations? If yes, share examples, if no, then what will take us there?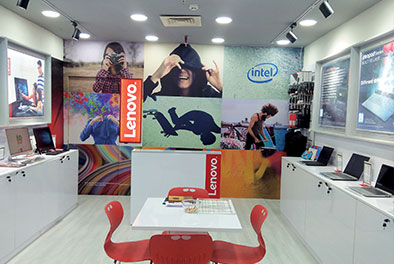 The POP industry has a lot of technological innovations on offer. But, what we need to ask is – "Is the market ready for innovations?" I am sure it is, as long as it can move beyond the L1 mode of business. Innovations do not come cheap, and unless clients respect that, cheaper and crude Chinese technological innovations shall prevail over and above futuristic, robust and environment-friendly innovations.
What are the current challenges faced by shopper marketing industry in terms of design, budget and timelines for delivery?
The biggest challenge today for the marketing industry is a plethora of agencies claiming to deliver the similar innovative solutions at obnoxious investments. I am sure that the shopper marketing industry can't afford to compromise on quality and timelines for delivery.
What all industries have you been serving? Give a brief description of your facility and team.
Acumen has been predominantly involved with the IT industry, but is also working with clients from the white goods and pharma industry like Bajaj Electricals, Himalaya and Unilever.
Acumen's team is comprised of individuals who have flourished in their individual field of interest, be it Design, Operations or Client Servicing. Based out of Bengaluru, where we have our main design and development team apart from the support teams, we have also strategically placed our operations teams in Delhi, Kolkata, Guwahati and Mumbai to support the retail deployment in these respective regions.
What do you think are the new trends in the POP Industry in terms of design and materials?
I think that one of the new and perhaps successful trend is clever sensory marketing – engage your customers not only by visual impact, touch and feel, but also with smell and sound – titillate all the primary human senses.
What are your future plans to take this agency to the next level, especially with such huge competition in this industry?
The burning need of the day is to build a strong client support team to cater to the diverse needs of our esteemed clients. I strongly feel that we have lived up to the expectations as far as quality and ROI is concerned. A strong client service team would hugely improve another basic expectation of clients – response time at the 11th hour.
Related Viewpoints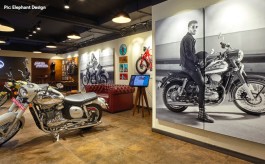 Co-Founder & Director, Elephant Design
'Designers have to take responsibility of making the store meet business objectives'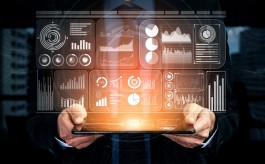 Angel Investor & Business Strategist
'Marketers need to stitch the missing link between data and business value'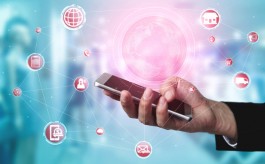 CEO, Ace Turtle
How omnichannel empowers brands in troubled times