AI offers $340 billion opportunity for retailers: Study
By Retail4Growth Team | January 11, 2019
A new global study by technology services major Capgemini estimated that global annual spending on AI by retailers will top $7.3 billion by 2022.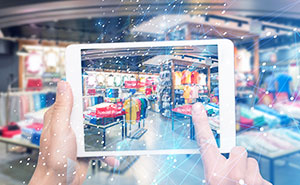 Retailers across the world are aggressively adopting artificial intelligence (AI) for customer-facing functions. According to a new global study from French technology services major Capgemini, the use of AI offers about $340 billion cost-saving opportunity for retailers who are able to scale and expand the scope of existing deployment.
The researchers found that more than a quarter of the top 250 global retailers are integrating AI into their organisations. However, only 1% of the retailers have reached the full-scale AI deployment. This was revealed by the research, titled "Building the Retail Superstar: How unleashing AI across functions offers a multi-billion-dollar opportunity".
The study further pointed out that most retailers are focusing their AI efforts only on sales and marketing, while there is significant opportunity to unleash AI use case across the value chain. The report also says that most retailers are going after complex use cases and in the process missing the easy-to-win AI opportunities.
AI offers one of the most significant opportunities in the retail space. Retailers across the world are investing in this advanced technology to improve the customer experience while driving up operational efficiency and productivity. It is estimated that global annual spending on AI by retailers will top $7.3 billion by 2022, claims the study.
Reported Examples
For the study, the researchers surveyed 400 retailers who are implementing AI use cases at different stages of business maturity. This group represents 23% of the global retail market by revenue. It also cited a few examples of retailers who are making significant moves in this space.
For example, Tesco is incorporating machine-learning algorithms across its business, from customer-facing functions to operational departments – and setting up the groundwork for centralized data models to overlay their AI initiatives. Walmart is investing significantly in high-level graphical processing units (GPUs) to power artificial intelligence algorithms. US-based apparel retailer Guess Inc. is partnering with Alibaba to bring Alibaba's 'Fashion AI' concept to its stores
Researchers found that large retailers (those with $10 billion or more in annual revenues) are more active in AI deployment. However, the smaller retailers are still lagging behind and also invest less than their larger counterparts.
"Over a quarter (28%) of retailers were deploying AI in 2018, a seven-fold increase from 2016 (4%)," the researchers said in the study.
Online retailers lead the AI race
Online retailers are pioneers in adding AI capabilities. 68 percent of pure-play online retailers are working on AI. One potential reason behind is that most online retailers are, by nature, more data-driven companies than their offline peers. For instance, Amazon's AI-powered recommendation engine examines an individual customer's profile alongside customers with similar profiles before recommending products. US-based online retailer Wayfair uses image-recognition tech to both show similar products and recommend complementary products based on users' purchase and browsing history.
Omnichannel retailers – who largely began as brick-and-mortar stores and later integrated digital capabilities – are playing catch up, with 30% penetration levels.