Anthropologie: Repurposing in Retail By Natalie Coulter
By Dipanjan Mukherjee | February 07, 2013
As an installation artist who works with mostly repurposed materials in the retail sector, I love nothing more than sighting repurposed materials and reuse in retail stores around the world.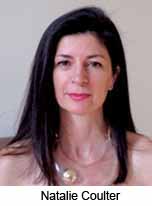 On a recent trip from Sydney to New York City, discarded materials sourced from Reverse Garbage, Australia's largest creative reuse centre, were transported to the 16th Annual PAVE Gala event at Cipriani Wall Street. It was truly a sight to behold. Reuse at its best! Sydney's discarded street banners and other materials sourced from Reverse Garbage were then swathed across mannequins and styled with layers of accessories made only from discarded objects and everyday materials that would otherwise have ended in landfill. The mannequins were transformed into beautiful works of art by the students of the Diploma of Visual Merchandising from TAFE Sydney Institute and displayed as feature display pieces at the retail gala event.
While in New York City, Belle Flaneur conducted a Sustainability Tour seeking out innovative and exciting examples of reuse and repurposing in the city's retail sector. One of the standout stars of the art of reuse amongst New York City's retailers is Anthropologie. This American based retailer operates 175 stores worldwide, 5 of which are in the New York borough of Manhattan.
Anthropologie are at the forefront of the push towards sustainability in aspirational retail environments. The brand features repurposed materials throughout its stores, from fixtures and fittings through to displays and shop presentations.
The high calibre work produced by Anthropologie's visual merchandising team is also recognised by the industry. At the PAVE Gala, Anthropologie's Rockefeller Center store was announced as the winner of the Gold Award in the annual Winning Window Manhattan holiday retail window competition.
Anthropologie offer their customers the ultimate in immersive shopping experiences.
It is a feast for the senses, enticing its audience through the doors with original visuals which bring to life the brand's passion for the art of repurposing and adaptive reuse in retail. The finely-crafted elements and sculptural pieces that make up the Anthropologie experience transport the shopper to another world.
As tempting as the stock on the floor is to buy, it is the captivating visual magic Anthropologie creates that makes it impossible for the customer to leave without taking home a piece of that shopping experience. As visual merchandisers, it is the inspiring use of materials in their store presentations that most piques our interest.
As described by Belle Flaneur collaborator Joshua Lunney "Bringing back the art of craft,
Anthropologie is constantly finding new uses for everyday things.They leave no corner of the store untouched, every turn of the head reveals a new visual masterpiece".
From a VM point of view, embracing the creative spirit and offering a platform for artistic talent to flourish is how Anthropologie differentiates itself from other retailers. Each store offers its VM team a work room/art studio within the store.The Anthropologie team told Belle Flaneur that these spaces are where the VM team can conceive and construct the handcrafted props and curiosities that are curated throughout each store.
The key to Anthropologie's success story is their ability to connect with their customer and be an authentic part of the communities in which they reside. The Anthropologie VM teams also collaborate with other artists on meaningful, themed bodies of work that celebrate community driven events and environmental awareness campaigns.
We were drawn to a particularly stunning oceanic-themed work in the windows of the San Francisco location that showcased the collaboration between Anthropologie and the Wyland Foundation—a non-profit organisation devoted to protecting marine life. This concept, a national campaign for Earth Month 2012, culminated in an auction of the works. As well as increasing community awareness of the Wyland Foundation, through the auction Anthropologie raised US$3000 to benefit the foundation's work.
Anthropologie describes itself as, "an escape from the everyday... a source of inspiration and delight, where innovative merchandising, customer centricity and a curated array of products come together to create an unimagined experience".
It is this dedication to creating an unparalleled shopping experience, along with their commitment to repurposing and reuse, that make Anthropologie's work truly something to be celebrated.
Featured are some unique examples observed by us on our sustainability tour within the Anthropologie stores in NYC.
1) 1) A cluster of discarded ceramic dinner plates colour washed with blue and gold paint display en masse, on the stairwell wall at the Flat Iron store location.
2) A feature wall of stacked preloved books at the entrance to the Rockefeller Center store.
3) Library stands repurposed as store fixtures to display the expansive selection of door handles and furniture knobs sold in every Anthropologie store.
4) Marine life protection windows in collaboration with the Wyland Foundation.
5) Belle Flaneur and Reverse Garbage collaboration at PAVE Gala 2012 NYC, crafted and styled by students of the Diploma of Visual Merchandising from TAFE Sydney Institute.
Natalie Coulter is the founder of Belle Flaneur - an initiative which brings together artists, designers & students to collaborate on window displays, visual merchandising and art installations. The work of Belle Flaneur has been produced in Sydney via retail, corporate environments & community projects. With a passion for repurposing & reuse, Belle Flaneur is at the forefront of creating installations from discarded materials to create and promote adaptive & environmentally sustainable design. www.belleflaneur.com
Related Viewpoints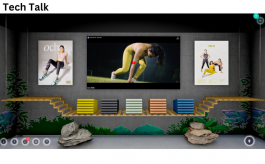 CEO, VOSMOS
Who says virtual can't be experiential? Welcome to Meta Commerce!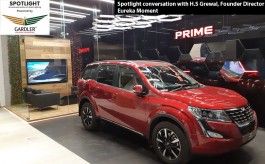 Founder Director, Eureka Moment
"Lighting is what enhances a space"