Big data in retail: Balancing opportunity & responsibility
By Smita Sinha & N. Jayalakshmi | March 28, 2019
Big Data is a game changer for retail. There are no two ways about it. But while big data presents an array and opportunities for brands and retailers, it also poses challenges in terms of ensuring data security and ensuring customer trust. Here's a look at the dynamics of data usage in retail.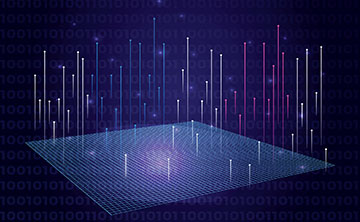 Not many of us are possibly aware that the term 'big data' assumed significance in the early 2000s when an industry analyst called Doug Laney reportedly defined big data in terms of volume, velocity (high speed processing of data in real time) and variety (types and formats of data –structured, numeric, text documents, email, video, audio, ticker data etc.)
In retail, data flows in through multiple streams and channels. In an effort to personalise offers or shopping experience, retailers are also making concerted efforts to collect data at various touchpoints such as mobile, in-store POS, ecommerce sites and through various other technologies.
But what is even more interesting and critical is how this data is mapped, analysed and translated into tangible customer benefits and business gains. According to an IBM survey, 62% of retailers reported a competitive advantage from using information and analytics and a Cisco report suggests that in-store analytics could add a staggering $61 billion of value to retailers worldwide.
Industry reports cite the examples of retailers who are seeing a 50-60% increase in their profit margins by implementing Big Data Analytics and also point to the fact that the ROIs from these will improve once the technology and its adoption matures.
So how is data being used by retailers?
The availability of data enables brand marketers and retailers in improving target marketing, streamlining inventory and optimising pricing in the store. Similarly, data gathered from in-store technologies helping retailers reshape the customer's in-store journey, experience and also layout of the store. After all today customers are expecting better and more personalised shopping engagements that are convenient and seamless across all the channels.
As Rajiv Prakash, Founder, Next In - Growth Partners to Entrepreneurs, said in the context of creating a phygital experience , retailers need a data vision encompassing data capture, structure, data driven decision making, creating data driven services/products and data privacy. "Much of magic of machine learning (as part of AI) lies in having the right data. Complementing data is the increasing range of capabilities being delivered by machine learning," he said.
In a recent interview to Retail4Growth, Saravana Mani, Head – Open Innovation of Future Group C&D Labs, had talked about the Future Group initiative to bring a host of facilities and services under one umbrella through the C&D Labs in order to facilitate a technology driven retail space and highlighted the focus on "data driven decision making."
Another example is that of Spar Hypermarket which recently rolled out a series of technology initiatives. Among other things, the retail company is increasingly looking at using artificial intelligence and machine learning to support personalised offers for customers based on data, according to Sunil Nair, CTO - SPAR India.
Vishal Kapoor, Chief Design Officer, Future Group, while talking about the retail major's approach to phygital, elaborated on the increasing role of technology in retail and explained the specific role played by big data in providing relevant insights and prescriptive analytics. He mentioned technologies like beacon sensing system, facial recognition, etc leading to customised advertising and summed up the role of big data in terms of an end to end cycle of observation, insights, ideation and action in a cyclic pattern.
For instance, as he explained, when the customer visits a store, the facial recognition technology based on her past visits and accumulation of data would provide detailed analytics of the profile helping the retailer to know here choices of products styles, brands, size etc.
Internationally retailers like Alibaba are already revolutionizing business by putting data at the heart of the business. According to a Financial Times report, Alibaba's vertically and horizontally integrated services span shopping, movies, finance and logistics, all collecting data on people's location, spending and viewing. Once refined, the data are fed back to the merchants, who in turn targets their good and sell more over Alibaba's ecommerce platforms.
Alibaba's Hema, unlike other traditional supermarkets, is a cashless supermarket chain which knows everything about its customers right from their phone number to their preferences, payment activities, social media account, etc. The data collection process begins the moment a customer enters the store through the Hema app.
Data Security and Protection
While the opportunities with data seems endless, there is also rising onus on the retailer ti ensure customer/shopper data privacy and security.
Zebra's 11th annual Global Shopper Study recently released findings which showed that trust is a major issue among shoppers, as only 13% of surveyed shoppers said they 'completely trust' retailers to protect their personal data – the lowest level of trust among 10 industries.
As Deep Agarwal, Regional Sales Director – India, Zebra Technologies was reported to have said, "One of the biggest implications is that retailers need to focus on building trust by being explicit about how shoppers' information is being utilized as 73% of surveyed shopper prefer flexibility to control how their personal information is used."
According to a Capgemini report, most retailers do not focus on cybersecurity and data privacy capabilities that can boost customer satisfaction. It also points out that consumers want more assurance from retailers that they are getting it. But retailers reportedly appear reluctant to inform their customer of data breaches and only a few retailers inform their consumers of a breach before the media.
Given the rise of digital payments, retailers have a greater need to protect their customers' data. Strong cybersecurity measures increase customer satisfaction by 13% and 40% of consumer are willing to spend at least 20% more with retailers they trust, according to the Capgemini report.
It is also important for retailers to become Payment Card Industry Data Security Standard (PCI DSS) compliant, a set of policies and procedures designed to optimize the security of card transactions. According to the Verizon Payment Security Report, only 50% of retail companies are fully compliant with the Payment Card Industry Data Security Standard. PCI compliance is crucial for retailers to ensure data security. According to industry experts, retailers must also adopt reliable card standards to ensure zero risks. Besides, for data to make a meaningful difference also means developing the capability to study patterns thrown up by big data and arriving at the right correlations and conclusions.
The core of it is that leveraging big data in the right way can make all the difference and can have far reaching business consequences for retailers.